{"id":11680479876,"title":"DH13 Two Handed Spey Rod Kit","handle":"dh13-two-handed-spey-rod-kit","description":"\u003ch3\u003e\u003cspan style=\"color: #ff0000;\"\u003e*SPECIAL INTRODUCTORY OFFER*\u003c\/span\u003e\u003c\/h3\u003e\n\u003ch2\u003e\u003cstrong\u003eThe Epic DH13 Carbon Fibre Two Handed Spey Rod Kit\u003c\/strong\u003e\u003c\/h2\u003e\n\u003ch3\u003eThe Satisfaction of building your own Spey Rod\u003c\/h3\u003e\n\u003cp\u003eBuild a premium quality two handed Spey rod with our comprehensive \"Ready to Wrap\" two handed fly rod kit.\u003c\/p\u003e\n\u003cdiv\u003e\n\u003cmeta charset=\"utf-8\"\u003e\n\u003ch3\u003e\u003cstrong\u003e3 Weights. One length. 6 Pieces\u003cbr\u003e\u003c\/strong\u003e\u003c\/h3\u003e\n\u003cp\u003eAfter talking to Spey casters around the world a 13ft two hander was clearly the most versatile and useful length for most two handed casters. A standardized length across our range also makes line selection a comparatively easy task.\u003c\/p\u003e\n\u003cp\u003e\u003cstrong\u003eWeights:\u003cbr\u003e\u003c\/strong\u003eEpic two\u003cspan\u003e \u003c\/span\u003ehanded blanks come\u003cspan\u003e \u003c\/span\u003ein 3\u003cspan\u003e \u003c\/span\u003edifferent weights \/ power configurations:\u003cbr\u003e\u003cstrong\u003e5-6\u003c\/strong\u003e\u003cspan\u003e \u003c\/span\u003eTrout Spey\u003cbr\u003e\u003cstrong\u003e6-7\u003c\/strong\u003e\u003cspan\u003e \u003c\/span\u003eLarge Trout \u0026amp; Steelhead\u003cbr\u003e\u003cstrong\u003e7-8\u003c\/strong\u003e\u003cspan\u003e \u003c\/span\u003eSalmon \u0026amp; large Steelhead\u003c\/p\u003e\n\u003cp\u003e\u003cb\u003eRecommended\u003c\/b\u003e\u003cstrong\u003e Grain Windows:\u003c\/strong\u003e\u003cbr\u003e\u003cstrong\u003e5-6 \u003c\/strong\u003e\u003cspan\u003e\u003cstrong\u003eTrout Spey:\u003c\/strong\u003e 250-460 grains. 16-30 grams\u003cbr\u003e\u003c\/span\u003e\u003cstrong\u003e6-7 \u003c\/strong\u003e\u003cspan\u003e\u003cstrong\u003eLarge Trout \u0026amp; Steelhead:\u003c\/strong\u003e 350-510 grains. 19.5 - 33 grams\u003c\/span\u003e\u003cbr\u003e\u003cstrong\u003e7-8 Salmon \u0026amp; large Steelhead:\u003cspan\u003e \u003c\/span\u003e\u003c\/strong\u003e420-620 grains. 23 - 40 grams\u003c\/p\u003e\n\u003cp\u003e\u003cspan\u003e\u003c\/span\u003e\u003cspan\u003e\u003cstrong\u003eRevised generation two nano-technology.\u003c\/strong\u003e Epic C series are a state of the art fly rod blank. The most sophisticated composite materials and production processes are used in their construction. Proprietary nano-resins, full Helical construction, multi modulus, and unidirectional carbon fibre - We believe this is \u003cstrong\u003ethe most sophisticated fly rod blank available\u003c\/strong\u003e. \u003c\/span\u003e\u003cspan\u003e\u003c\/span\u003e\u003c\/p\u003e\n\u003ch3\u003e\u003cstrong\u003eGround ferrule system\u003c\/strong\u003e\u003c\/h3\u003e\n\u003cp\u003eIn addition to the industry leading technology used in each of our blanks, Epic carbon fibre fly rod blanks feature our proprietary ground ferrule system. Each male ferrule is hand ground to perfectly fit the female section of the blank. Female sections are all internally reinforced.\u003c\/p\u003e\n\u003ch3\u003e\u003cstrong\u003eNano Tough\u003c\/strong\u003e\u003c\/h3\u003e\n\u003cp\u003eOur use of Silica nano-resin makes for a very tough, lightweight and extremely responsive blank.\u003c\/p\u003e\n\u003cstrong\u003eMaterial: \u003c\/strong\u003eCarbon Fibre (Graphite)\u003c\/div\u003e\n\u003cp\u003e\u003cstrong\u003ePieces: \u003c\/strong\u003e6\u003cstrong\u003e\u003cbr\u003eAction:\u003c\/strong\u003e Progressive. Medium fast\u003cbr\u003e\u003cstrong\u003eLength:\u003c\/strong\u003e 13ft all models\u003cbr\u003e\u003cstrong\u003eWeight Built:\u003c\/strong\u003e Aprox 200g - 206g depending on model (7oz to 7.2oz)\u003cbr\u003e\u003cstrong\u003eFore grip length:\u003c\/strong\u003e  325mm (12.7 inches)\u003cbr\u003e\u003cstrong\u003eRear grip length:\u003c\/strong\u003e 125mm (4.9 inches)\u003c\/p\u003e","published_at":"2017-08-07T10:48:11+12:00","created_at":"2017-08-07T10:01:42+12:00","vendor":"The Swift Fly Fishing Company","type":"Rod Kit","tags":[],"price":49500,"price_min":49500,"price_max":49500,"available":true,"price_varies":false,"compare_at_price":79500,"compare_at_price_min":79500,"compare_at_price_max":79500,"compare_at_price_varies":false,"variants":[{"id":47926158276,"title":"5-6 wt Trout Spey","option1":"5-6 wt Trout Spey","option2":null,"option3":null,"sku":"5-6 wt Trout Spey","requires_shipping":true,"taxable":true,"featured_image":null,"available":true,"name":"DH13 Two Handed Spey Rod Kit - 5-6 wt Trout Spey","public_title":"5-6 wt Trout Spey","options":["5-6 wt Trout Spey"],"price":49500,"weight":5000,"compare_at_price":79500,"inventory_quantity":16,"inventory_management":"shopify","inventory_policy":"deny","barcode":""},{"id":47926158340,"title":"6-7 wt Large Trout \u0026 Steelhead","option1":"6-7 wt Large Trout \u0026 Steelhead","option2":null,"option3":null,"sku":"6-7 wt nano-tech 13ft 6 pieces","requires_shipping":true,"taxable":true,"featured_image":null,"available":true,"name":"DH13 Two Handed Spey Rod Kit - 6-7 wt Large Trout \u0026 Steelhead","public_title":"6-7 wt Large Trout \u0026 Steelhead","options":["6-7 wt Large Trout \u0026 Steelhead"],"price":49500,"weight":5000,"compare_at_price":79500,"inventory_quantity":7,"inventory_management":"shopify","inventory_policy":"deny","barcode":""},{"id":47926158404,"title":"7-8wt Steelhead \u0026 Salmon","option1":"7-8wt Steelhead \u0026 Salmon","option2":null,"option3":null,"sku":"813-6-nano","requires_shipping":true,"taxable":true,"featured_image":null,"available":true,"name":"DH13 Two Handed Spey Rod Kit - 7-8wt Steelhead \u0026 Salmon","public_title":"7-8wt Steelhead \u0026 Salmon","options":["7-8wt Steelhead \u0026 Salmon"],"price":49500,"weight":5000,"compare_at_price":79500,"inventory_quantity":6,"inventory_management":"shopify","inventory_policy":"deny","barcode":""}],"images":["\/\/cdn.shopify.com\/s\/files\/1\/0120\/5852\/products\/Dh13-Two-hander11.jpg?v=1502060255","\/\/cdn.shopify.com\/s\/files\/1\/0120\/5852\/products\/Dh13-Towo-hander1.jpg?v=1502060255","\/\/cdn.shopify.com\/s\/files\/1\/0120\/5852\/products\/Dh13-Two-hander2.jpg?v=1502060255","\/\/cdn.shopify.com\/s\/files\/1\/0120\/5852\/products\/Dh13-Two-hander8.jpg?v=1502060255","\/\/cdn.shopify.com\/s\/files\/1\/0120\/5852\/products\/Dh13-Two-hander7.jpg?v=1502060255","\/\/cdn.shopify.com\/s\/files\/1\/0120\/5852\/products\/Build-Book.jpg?v=1502060298","\/\/cdn.shopify.com\/s\/files\/1\/0120\/5852\/products\/Book-Open.jpg?v=1502060306","\/\/cdn.shopify.com\/s\/files\/1\/0120\/5852\/products\/Contents.jpg?v=1502060318","\/\/cdn.shopify.com\/s\/files\/1\/0120\/5852\/products\/Dh13-Two-hander3.jpg?v=1502060255","\/\/cdn.shopify.com\/s\/files\/1\/0120\/5852\/products\/Dh13-Two-hander5.jpg?v=1502060255","\/\/cdn.shopify.com\/s\/files\/1\/0120\/5852\/products\/Dh13-Two-hander9.jpg?v=1502060255","\/\/cdn.shopify.com\/s\/files\/1\/0120\/5852\/products\/Dh13-Two-hander10.jpg?v=1502060255","\/\/cdn.shopify.com\/s\/files\/1\/0120\/5852\/products\/Dh13-Two-hander4.jpg?v=1502060255","\/\/cdn.shopify.com\/s\/files\/1\/0120\/5852\/products\/Dh13-Two-hander6.jpg?v=1502060255","\/\/cdn.shopify.com\/s\/files\/1\/0120\/5852\/products\/Epic-Two-Hander5_900e9f87-0751-4c2a-bc7d-a8592036555e.jpg?v=1502060255","\/\/cdn.shopify.com\/s\/files\/1\/0120\/5852\/products\/Epic-Two-Hander2_482dec3f-1dbe-4e78-875c-a2222338812f.jpg?v=1502060255","\/\/cdn.shopify.com\/s\/files\/1\/0120\/5852\/products\/Epic-Two-Hander7_5b55190f-ee4a-45d6-801e-84b28042bbb0.jpg?v=1502060255","\/\/cdn.shopify.com\/s\/files\/1\/0120\/5852\/products\/Epic-Two-Hander4_ba4d9a91-f340-47db-8301-85870294a767.jpg?v=1502060255"],"featured_image":"\/\/cdn.shopify.com\/s\/files\/1\/0120\/5852\/products\/Dh13-Two-hander11.jpg?v=1502060255","options":["Model - Size"],"content":"\u003ch3\u003e\u003cspan style=\"color: #ff0000;\"\u003e*SPECIAL INTRODUCTORY OFFER*\u003c\/span\u003e\u003c\/h3\u003e\n\u003ch2\u003e\u003cstrong\u003eThe Epic DH13 Carbon Fibre Two Handed Spey Rod Kit\u003c\/strong\u003e\u003c\/h2\u003e\n\u003ch3\u003eThe Satisfaction of building your own Spey Rod\u003c\/h3\u003e\n\u003cp\u003eBuild a premium quality two handed Spey rod with our comprehensive \"Ready to Wrap\" two handed fly rod kit.\u003c\/p\u003e\n\u003cdiv\u003e\n\u003cmeta charset=\"utf-8\"\u003e\n\u003ch3\u003e\u003cstrong\u003e3 Weights. One length. 6 Pieces\u003cbr\u003e\u003c\/strong\u003e\u003c\/h3\u003e\n\u003cp\u003eAfter talking to Spey casters around the world a 13ft two hander was clearly the most versatile and useful length for most two handed casters. A standardized length across our range also makes line selection a comparatively easy task.\u003c\/p\u003e\n\u003cp\u003e\u003cstrong\u003eWeights:\u003cbr\u003e\u003c\/strong\u003eEpic two\u003cspan\u003e \u003c\/span\u003ehanded blanks come\u003cspan\u003e \u003c\/span\u003ein 3\u003cspan\u003e \u003c\/span\u003edifferent weights \/ power configurations:\u003cbr\u003e\u003cstrong\u003e5-6\u003c\/strong\u003e\u003cspan\u003e \u003c\/span\u003eTrout Spey\u003cbr\u003e\u003cstrong\u003e6-7\u003c\/strong\u003e\u003cspan\u003e \u003c\/span\u003eLarge Trout \u0026amp; Steelhead\u003cbr\u003e\u003cstrong\u003e7-8\u003c\/strong\u003e\u003cspan\u003e \u003c\/span\u003eSalmon \u0026amp; large Steelhead\u003c\/p\u003e\n\u003cp\u003e\u003cb\u003eRecommended\u003c\/b\u003e\u003cstrong\u003e Grain Windows:\u003c\/strong\u003e\u003cbr\u003e\u003cstrong\u003e5-6 \u003c\/strong\u003e\u003cspan\u003e\u003cstrong\u003eTrout Spey:\u003c\/strong\u003e 250-460 grains. 16-30 grams\u003cbr\u003e\u003c\/span\u003e\u003cstrong\u003e6-7 \u003c\/strong\u003e\u003cspan\u003e\u003cstrong\u003eLarge Trout \u0026amp; Steelhead:\u003c\/strong\u003e 350-510 grains. 19.5 - 33 grams\u003c\/span\u003e\u003cbr\u003e\u003cstrong\u003e7-8 Salmon \u0026amp; large Steelhead:\u003cspan\u003e \u003c\/span\u003e\u003c\/strong\u003e420-620 grains. 23 - 40 grams\u003c\/p\u003e\n\u003cp\u003e\u003cspan\u003e\u003c\/span\u003e\u003cspan\u003e\u003cstrong\u003eRevised generation two nano-technology.\u003c\/strong\u003e Epic C series are a state of the art fly rod blank. The most sophisticated composite materials and production processes are used in their construction. Proprietary nano-resins, full Helical construction, multi modulus, and unidirectional carbon fibre - We believe this is \u003cstrong\u003ethe most sophisticated fly rod blank available\u003c\/strong\u003e. \u003c\/span\u003e\u003cspan\u003e\u003c\/span\u003e\u003c\/p\u003e\n\u003ch3\u003e\u003cstrong\u003eGround ferrule system\u003c\/strong\u003e\u003c\/h3\u003e\n\u003cp\u003eIn addition to the industry leading technology used in each of our blanks, Epic carbon fibre fly rod blanks feature our proprietary ground ferrule system. Each male ferrule is hand ground to perfectly fit the female section of the blank. Female sections are all internally reinforced.\u003c\/p\u003e\n\u003ch3\u003e\u003cstrong\u003eNano Tough\u003c\/strong\u003e\u003c\/h3\u003e\n\u003cp\u003eOur use of Silica nano-resin makes for a very tough, lightweight and extremely responsive blank.\u003c\/p\u003e\n\u003cstrong\u003eMaterial: \u003c\/strong\u003eCarbon Fibre (Graphite)\u003c\/div\u003e\n\u003cp\u003e\u003cstrong\u003ePieces: \u003c\/strong\u003e6\u003cstrong\u003e\u003cbr\u003eAction:\u003c\/strong\u003e Progressive. Medium fast\u003cbr\u003e\u003cstrong\u003eLength:\u003c\/strong\u003e 13ft all models\u003cbr\u003e\u003cstrong\u003eWeight Built:\u003c\/strong\u003e Aprox 200g - 206g depending on model (7oz to 7.2oz)\u003cbr\u003e\u003cstrong\u003eFore grip length:\u003c\/strong\u003e  325mm (12.7 inches)\u003cbr\u003e\u003cstrong\u003eRear grip length:\u003c\/strong\u003e 125mm (4.9 inches)\u003c\/p\u003e"}
DH13 Two Handed Spey Rod Kit
DH13 Two Handed Spey Rod Kit
*SPECIAL INTRODUCTORY OFFER*
The Epic DH13 Carbon Fibre Two Handed Spey Rod Kit
The Satisfaction of building your own Spey Rod
Build a premium quality two handed Spey rod with our comprehensive "Ready to Wrap" two handed fly rod kit.
3 Weights. One length. 6 Pieces

After talking to Spey casters around the world a 13ft two hander was clearly the most versatile and useful length for most two handed casters. A standardized length across our range also makes line selection a comparatively easy task.
Weights:
Epic two handed blanks come in 3 different weights / power configurations:
5-6 Trout Spey
6-7 Large Trout & Steelhead
7-8 Salmon & large Steelhead
Recommended Grain Windows:
5-6 Trout Spey: 250-460 grains. 16-30 grams
6-7 Large Trout & Steelhead: 350-510 grains. 19.5 - 33 grams
7-8 Salmon & large Steelhead: 420-620 grains. 23 - 40 grams
Revised generation two nano-technology. Epic C series are a state of the art fly rod blank. The most sophisticated composite materials and production processes are used in their construction. Proprietary nano-resins, full Helical construction, multi modulus, and unidirectional carbon fibre - We believe this is the most sophisticated fly rod blank available. 
Ground ferrule system
In addition to the industry leading technology used in each of our blanks, Epic carbon fibre fly rod blanks feature our proprietary ground ferrule system. Each male ferrule is hand ground to perfectly fit the female section of the blank. Female sections are all internally reinforced.
Nano Tough
Our use of Silica nano-resin makes for a very tough, lightweight and extremely responsive blank.

Material: Carbon Fibre (Graphite)
Pieces: 6
Action: Progressive. Medium fast
Length: 13ft all models
Weight Built: Aprox 200g - 206g depending on model (7oz to 7.2oz)
Fore grip length:  325mm (12.7 inches)
Rear grip length: 125mm (4.9 inches)
Customer Reviews
Reviews (2)
Questions (0)
D13kit
Amazing quality, excellent service. A few days after I ordered the kit, I received a post card from epic, then a email confirmation on delivery. Rod was very easy to assemble, great instructions, would definitely order another kit
09/11/2017
Michael L.
New Zealand
Piece of cake !
/Users/michaellasenby/Desktop/unnamed.jpg Exactly as expected, everything fits together perfectly in these Epic kits. More than enough glues, threads, epoxy and disposables to practise with if needed. The instruction sheets that are supplied with it make it as easy as rolling a smoke ! I haven't fished with this yet but am pretty confident it will perform above my expectations (and ability probably)
- THE EPIC PROMISE -

We guarantee everything we make.
If one of our products fails to meet your expectations either at the time you receive it, or over the next 30 days, contact us and we'll arrange a total refund and return at our cost, anywhere in the world.

The Epic Lifetime Warranty.
Every new Epic fly rod or blank that we produce is covered by our lifetime, original owner warranty. This warranty covers failure due to defects in material or workmanship of our product. Any Epic fly rod built by the Swift Fly Fishing company that fails due to misuse, negligence or normal wear-and-tear will be repaired or replaced at a nominal cost plus shipping at our discretion.
Full details of our warrenty, guarantee, replacment and returns policy can be found here
"Since the first order i felt that Swift is a company that really cares about the customers. I have just finished building the 888 and it was really fun. Everything was just as expected. Top notch. Now i'm waiting for my other kit to arrive! "

"As this was my first attempt at building a fly rod I was worried that I would end up with nothing but a sticky pile of carbon fibre and tangled thread. However, by following the step by step instructions in the booklet I was feeling like a pro in no time. Everything in the kit is organised to make it as simple as possible and the instructions are super easy to follow with photos of each step. My rod turned out great (in my eyes anyway) and I would highly recommend the 'ready to wrap kits' to anyone. I look forward to the next one." - Gareth T


"This is my fifth Epic build. As before all the components are excellent, the finished rod is nicely balanced and rod casts a five weight line beautifully.
These rods fish well and are amazingly tough." - Daniel L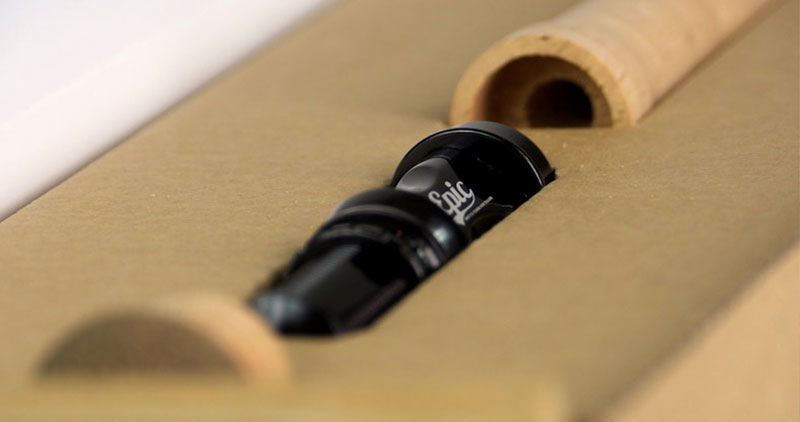 Designed to fit together seamlessly.
Building a great custom fly rod is no mean feat, selecting the correct matching components can be an intimidating exercise alone. First time rod builder or seasoned professional, our Epic Ready to Wrap Rod Kits make building a quality fly rod simple. Each kit contains all the components, glues, rod finish and instructions you'll need to build your own unique custom fly rod.
The components in our Epic Ready to Wrap Rod Kit have all been specifically designed to work together.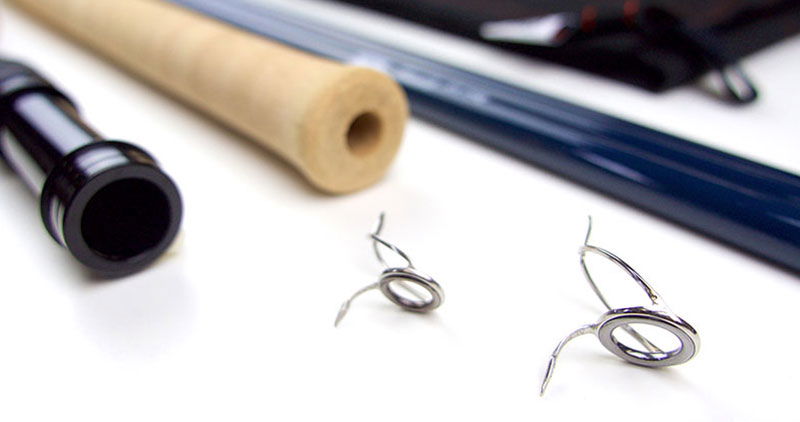 Each Ready to Wrap fly rod boasts the finest components possible.
Our comprehensive 40 page step by step fly rod build book
Glue kit (preloaded syringes, epoxy - brushes - mixing cups)
Fold out rod building stands - Kit box doubles as your workstation
Highest quality stripping guides matched to each kit
Flor grade quality Portuguese cork grip in your choice of style
Japanese silk threads for wrapping and trims
Genuine Snake Brand guides either e-coated or black nickel
Bar stock Alloy reel seats that will last a lifetime
Our hand ferruled "Katana" rod tube
The most sophisticated fly rod blanks made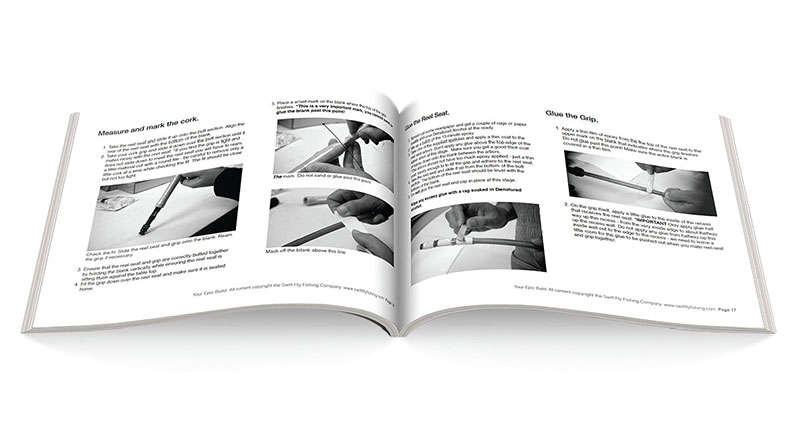 The secret to building a great fly rod.


Our comprehensive step by step fly rod building book. 42 pages of clear, simple, straightforward step by step instructions on how to put together a custom Epic fly rod, complete with tips from the pros'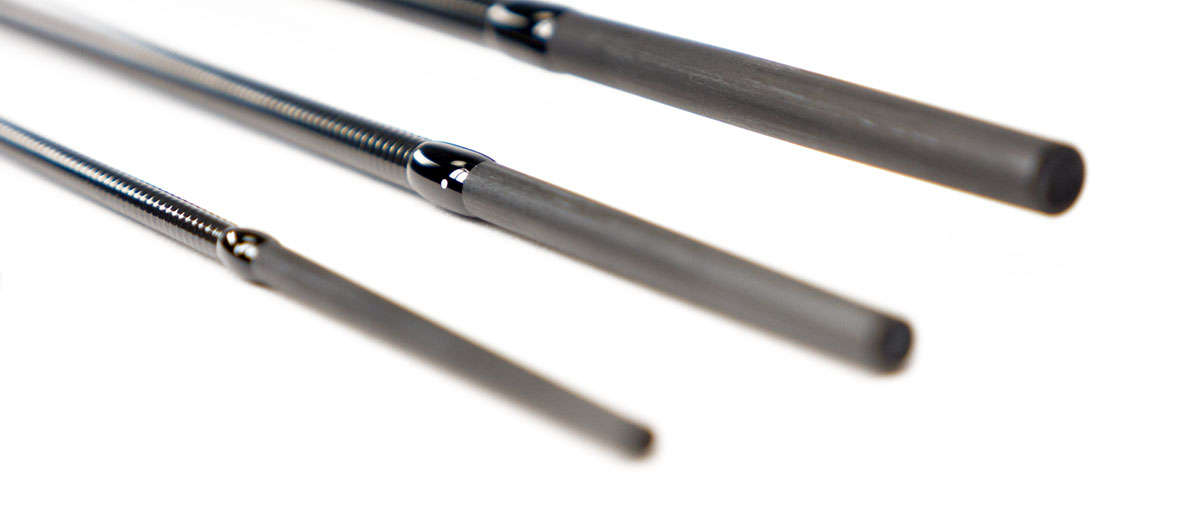 When choosing one of our Ready to Wrap Rod Kits you can be confident you'll be receiving one of the world's very finest fly rod blanks. Preferred by professional custom rod builders the world over.