{"id":935162436,"title":"476 FastGlass Fly Rod","handle":"epic-476-fastglass-fly-rod","description":"\u003ch3\u003eMaximum Power in a Tactical Package\u003c\/h3\u003e\n\u003cp\u003eLooking for a shorter blank to fish in tight confined creeks but still want the backbone and pulling power of a larger rod? The 476 is the real deal.\u003c\/p\u003e\n\u003cp\u003eOur most fun casting rod (can we say that?), the 476 boxes well above it's weight, easily horsing out fish in the 2 - 3 kg range (that's 3 to 6 lbs)\u003c\/p\u003e\n\u003cp\u003e\u003cem\u003eThe 476 is a fast, lively, and extremely accurate fly rod.\u003c\/em\u003e\u003c\/p\u003e\n\u003cdiv\u003e\n\u003cstrong\u003eRecommended Line Weight: \u003c\/strong\u003eAFTMA #4 \u003c\/div\u003e\n\u003cp\u003e\u003cstrong\u003eLength:\u003c\/strong\u003e 7'6\"\u003cbr\u003e\u003cstrong\u003ePieces:\u003c\/strong\u003e 4\u003c\/p\u003e\n\u003cp\u003e \u003c\/p\u003e\n\u003cp\u003e\u003cstrong\u003e\u003c\/strong\u003e\u003cstrong\u003eBuilt Epic Tough\u003cbr\u003e\u003c\/strong\u003eEpic glass rods are incredibly tough. Our S2 FastGlass has a far higher strength-to-weight ratio than Carbon fibre (graphite) rods. Epic FastGlass rods can endure more acute and severe bends than the equivalent Carbon fibre, tip sections are stronger and far less susceptible to breakages due to high-sticking and problematic rod angles when pulling against load. \u003c\/p\u003e\n\u003cdiv style=\"line-height: 1.5;\"\u003e\n\u003cul\u003e\u003c\/ul\u003e\n\u003c\/div\u003e\n\u003cul class=\"tabs-content\"\u003e\u003c\/ul\u003e\n\u003ch6\u003eSpecifications\u003c\/h6\u003e\n\u003cp\u003e\u003cspan style=\"line-height: 1.5;\"\u003e\u003cstrong\u003eRecommended line weight\u003c\/strong\u003e:\u003c\/span\u003e\u003cspan style=\"line-height: 1.5;\"\u003e AFTMA #4 \u003cbr\u003e\u003c\/span\u003e\u003cspan style=\"line-height: 1.5;\"\u003e\u003cstrong\u003eLength:\u003c\/strong\u003e\u003c\/span\u003e\u003cspan style=\"line-height: 1.5;\"\u003e 7'6\" \u003cbr\u003e\u003c\/span\u003e\u003cspan style=\"line-height: 1.5;\"\u003e\u003cstrong\u003ePieces:\u003c\/strong\u003e\u003c\/span\u003e\u003cspan style=\"line-height: 1.5;\"\u003e 4  \u003cbr\u003e\u003c\/span\u003e\u003cspan style=\"line-height: 1.5;\"\u003e\u003cstrong\u003eTotal length:\u003c\/strong\u003e\u003c\/span\u003e\u003cspan style=\"line-height: 1.5;\"\u003e 2,265mm \u003cbr\u003e\u003c\/span\u003e\u003cspan style=\"line-height: 1.5;\"\u003e\u003cstrong\u003eERN:\u003c\/strong\u003e\u003c\/span\u003e\u003cspan style=\"line-height: 1.5;\"\u003e (Unwrapped): 3.96 \u003cbr\u003e\u003c\/span\u003e\u003cspan style=\"line-height: 1.5;\"\u003e\u003cstrong\u003eELN:\u003c\/strong\u003e\u003c\/span\u003e\u003cspan style=\"line-height: 1.5;\"\u003e 4 \u003cbr\u003e\u003c\/span\u003e\u003cspan style=\"line-height: 1.5;\"\u003e\u003cstrong\u003eOptimal Grain Window:\u003c\/strong\u003e\u003c\/span\u003e\u003cspan style=\"line-height: 1.5;\"\u003e 120 - 135 Grains \u003cbr\u003e\u003c\/span\u003e\u003cspan style=\"line-height: 1.5;\"\u003e\u003cstrong\u003eEffective Line Range:\u003c\/strong\u003e\u003c\/span\u003e\u003cspan style=\"line-height: 1.5;\"\u003e AFTMA 4 \/ 5 \u003cbr\u003e\u003c\/span\u003e\u003cspan style=\"line-height: 1.5;\"\u003e\u003cstrong\u003eAction:\u003c\/strong\u003e \u003c\/span\u003e\u003cspan style=\"line-height: 1.5;\"\u003eProgressive \/ Mid Flex \/ Medium  \u003cbr\u003e\u003c\/span\u003e\u003cspan style=\"line-height: 1.5;\"\u003e\u003cstrong\u003eTaper:\u003c\/strong\u003e\u003c\/span\u003e\u003cspan style=\"line-height: 1.5;\"\u003e Fast \u003cbr\u003e\u003c\/span\u003e\u003cspan style=\"line-height: 1.5;\"\u003e\u003cstrong\u003eBlank Weight:\u003c\/strong\u003e\u003c\/span\u003e\u003cspan style=\"line-height: 1.5;\"\u003e 47g\u003c\/span\u003e\u003c\/p\u003e\n\u003chr style=\"line-height: 1.5;\"\u003e\n\u003ch5\u003e\n\u003cimg alt=\"Epic Fiberglass Fly Rod\" src=\"\/\/cdn.shopify.com\/s\/files\/1\/0120\/5852\/files\/Epic-Fiberglass-Fly-Rod-Specifications_4_large.png?4328\" style=\"float: none;\"\u003e\u003cbr\u003e\u003cimg src=\"https:\/\/cdn.shopify.com\/s\/files\/1\/0120\/5852\/files\/580-Rod-Power-slider_1.png?5029\" alt=\"Epic 580 s2 Fiberglass Fly Rod Blank\"\u003e\u003cbr\u003e\u003cimg src=\"\/\/cdn.shopify.com\/s\/files\/1\/0120\/5852\/files\/S-Glass_3_large.png?4330\" alt=\"Epic Fiberglass Fly Rod Blank\"\u003e\n\u003c\/h5\u003e\n\u003cspan style=\"line-height: 21px;\"\u003e\u003cbr\u003e\u003c\/span\u003e\n\u003cp\u003e \u003c\/p\u003e","published_at":"2015-07-19T12:54:00+12:00","created_at":"2015-07-19T14:02:34+12:00","vendor":"SWIFT","type":"Studio Built Fly Rod","tags":["Studio Built Fly Rod"],"price":115000,"price_min":115000,"price_max":115000,"available":true,"price_varies":false,"compare_at_price":99500,"compare_at_price_min":99500,"compare_at_price_max":99500,"compare_at_price_varies":false,"variants":[{"id":3646772676,"title":"Amber \/ Black","option1":"Amber","option2":"Black","option3":null,"sku":"476_STUDIO_ABW","requires_shipping":true,"taxable":true,"featured_image":{"id":8249779140,"product_id":935162436,"position":6,"created_at":"2015-12-04T09:51:27+13:00","updated_at":"2017-02-16T11:57:44+13:00","width":1200,"height":525,"src":"https:\/\/cdn.shopify.com\/s\/files\/1\/0120\/5852\/products\/studio-built-fly-rod-epic-476-fastglass-fly-rod-2.jpg?v=1487199464","variant_ids":[3646772676]},"available":false,"name":"476 FastGlass Fly Rod - Amber \/ Black","public_title":"Amber \/ Black","options":["Amber","Black"],"price":115000,"weight":5000,"compare_at_price":null,"inventory_quantity":0,"inventory_management":"shopify","inventory_policy":"deny","barcode":"27972676"},{"id":3646772804,"title":"Amber \/ Titanium","option1":"Amber","option2":"Titanium","option3":null,"sku":"476_STUDIO_ASW","requires_shipping":true,"taxable":true,"featured_image":{"id":8249781956,"product_id":935162436,"position":8,"created_at":"2015-12-04T09:51:34+13:00","updated_at":"2017-02-16T11:57:44+13:00","width":1200,"height":525,"src":"https:\/\/cdn.shopify.com\/s\/files\/1\/0120\/5852\/products\/studio-built-fly-rod-epic-476-fastglass-fly-rod-4.jpg?v=1487199464","variant_ids":[3646772804]},"available":false,"name":"476 FastGlass Fly Rod - Amber \/ Titanium","public_title":"Amber \/ Titanium","options":["Amber","Titanium"],"price":115000,"weight":5000,"compare_at_price":99500,"inventory_quantity":0,"inventory_management":"shopify","inventory_policy":"deny","barcode":"27972804"},{"id":3646773316,"title":"Salsa \/ Black","option1":"Salsa","option2":"Black","option3":null,"sku":"476_STUDIO_SBW","requires_shipping":true,"taxable":true,"featured_image":{"id":8249778244,"product_id":935162436,"position":1,"created_at":"2015-12-04T09:51:24+13:00","updated_at":"2017-02-16T11:57:44+13:00","width":1200,"height":525,"src":"https:\/\/cdn.shopify.com\/s\/files\/1\/0120\/5852\/products\/studio-built-fly-rod-epic-476-fastglass-fly-rod-1.jpg?v=1487199464","variant_ids":[3646773316]},"available":false,"name":"476 FastGlass Fly Rod - Salsa \/ Black","public_title":"Salsa \/ Black","options":["Salsa","Black"],"price":115000,"weight":5000,"compare_at_price":99500,"inventory_quantity":0,"inventory_management":"shopify","inventory_policy":"deny","barcode":"27973316"},{"id":3646773444,"title":"Salsa \/ Titanium","option1":"Salsa","option2":"Titanium","option3":null,"sku":"476_STUDIO_SSW","requires_shipping":true,"taxable":true,"featured_image":{"id":8249787460,"product_id":935162436,"position":9,"created_at":"2015-12-04T09:51:50+13:00","updated_at":"2017-02-16T11:57:44+13:00","width":1200,"height":525,"src":"https:\/\/cdn.shopify.com\/s\/files\/1\/0120\/5852\/products\/studio-built-fly-rod-epic-476-fastglass-fly-rod-9.jpg?v=1487199464","variant_ids":[3646773444]},"available":false,"name":"476 FastGlass Fly Rod - Salsa \/ Titanium","public_title":"Salsa \/ Titanium","options":["Salsa","Titanium"],"price":115000,"weight":5000,"compare_at_price":99500,"inventory_quantity":0,"inventory_management":"shopify","inventory_policy":"deny","barcode":"27973444"},{"id":3646773956,"title":"So Blue \/ Black","option1":"So Blue","option2":"Black","option3":null,"sku":"476_STUDIO_SBBW","requires_shipping":true,"taxable":true,"featured_image":{"id":8249793924,"product_id":935162436,"position":10,"created_at":"2015-12-04T09:52:07+13:00","updated_at":"2017-02-16T11:57:44+13:00","width":1200,"height":525,"src":"https:\/\/cdn.shopify.com\/s\/files\/1\/0120\/5852\/products\/studio-built-fly-rod-epic-476-fastglass-fly-rod-14.jpg?v=1487199464","variant_ids":[3646773956]},"available":true,"name":"476 FastGlass Fly Rod - So Blue \/ Black","public_title":"So Blue \/ Black","options":["So Blue","Black"],"price":115000,"weight":5000,"compare_at_price":null,"inventory_quantity":5,"inventory_management":"shopify","inventory_policy":"deny","barcode":"27973956"},{"id":3646774020,"title":"So Blue \/ Titanium","option1":"So Blue","option2":"Titanium","option3":null,"sku":"476_STUDIO_SBSW","requires_shipping":true,"taxable":true,"featured_image":{"id":8249796356,"product_id":935162436,"position":11,"created_at":"2015-12-04T09:52:11+13:00","updated_at":"2017-02-16T11:57:44+13:00","width":1200,"height":525,"src":"https:\/\/cdn.shopify.com\/s\/files\/1\/0120\/5852\/products\/studio-built-fly-rod-epic-476-fastglass-fly-rod-15.jpg?v=1487199464","variant_ids":[3646774020]},"available":true,"name":"476 FastGlass Fly Rod - So Blue \/ Titanium","public_title":"So Blue \/ Titanium","options":["So Blue","Titanium"],"price":115000,"weight":5000,"compare_at_price":null,"inventory_quantity":5,"inventory_management":"shopify","inventory_policy":"deny","barcode":"27974020"},{"id":3646774468,"title":"Nude \/ Black","option1":"Nude","option2":"Black","option3":null,"sku":"476_STUDIO_NBW","requires_shipping":true,"taxable":true,"featured_image":{"id":8249802820,"product_id":935162436,"position":12,"created_at":"2015-12-04T09:52:27+13:00","updated_at":"2017-02-16T11:57:44+13:00","width":1200,"height":525,"src":"https:\/\/cdn.shopify.com\/s\/files\/1\/0120\/5852\/products\/studio-built-fly-rod-epic-476-fastglass-fly-rod-20.jpg?v=1487199464","variant_ids":[3646774468]},"available":false,"name":"476 FastGlass Fly Rod - Nude \/ Black","public_title":"Nude \/ Black","options":["Nude","Black"],"price":115000,"weight":5000,"compare_at_price":null,"inventory_quantity":0,"inventory_management":"shopify","inventory_policy":"deny","barcode":"27974468"},{"id":3646774532,"title":"Nude \/ Titanium","option1":"Nude","option2":"Titanium","option3":null,"sku":"476_STUDIO_NSW","requires_shipping":true,"taxable":true,"featured_image":{"id":8249804868,"product_id":935162436,"position":13,"created_at":"2015-12-04T09:52:30+13:00","updated_at":"2017-02-16T11:57:44+13:00","width":1200,"height":525,"src":"https:\/\/cdn.shopify.com\/s\/files\/1\/0120\/5852\/products\/studio-built-fly-rod-epic-476-fastglass-fly-rod-21.jpg?v=1487199464","variant_ids":[3646774532]},"available":false,"name":"476 FastGlass Fly Rod - Nude \/ Titanium","public_title":"Nude \/ Titanium","options":["Nude","Titanium"],"price":115000,"weight":5000,"compare_at_price":null,"inventory_quantity":0,"inventory_management":"shopify","inventory_policy":"deny","barcode":"27974532"},{"id":3646774852,"title":"Olive \/ Black","option1":"Olive","option2":"Black","option3":null,"sku":"476_STUDIO_OBW","requires_shipping":true,"taxable":true,"featured_image":{"id":8249779652,"product_id":935162436,"position":7,"created_at":"2015-12-04T09:51:30+13:00","updated_at":"2017-02-16T11:57:44+13:00","width":1200,"height":525,"src":"https:\/\/cdn.shopify.com\/s\/files\/1\/0120\/5852\/products\/studio-built-fly-rod-epic-476-fastglass-fly-rod-3_4f4eab40-d299-434a-9a07-6fad63aac0e2.jpg?v=1487199464","variant_ids":[3646774852]},"available":true,"name":"476 FastGlass Fly Rod - Olive \/ Black","public_title":"Olive \/ Black","options":["Olive","Black"],"price":115000,"weight":5000,"compare_at_price":null,"inventory_quantity":1,"inventory_management":"shopify","inventory_policy":"deny","barcode":"27974852"},{"id":3646774916,"title":"Olive \/ Titanium","option1":"Olive","option2":"Titanium","option3":null,"sku":"476_STUDIO_OSW","requires_shipping":true,"taxable":true,"featured_image":{"id":8249811204,"product_id":935162436,"position":14,"created_at":"2015-12-04T09:52:46+13:00","updated_at":"2017-02-16T11:57:44+13:00","width":1200,"height":525,"src":"https:\/\/cdn.shopify.com\/s\/files\/1\/0120\/5852\/products\/studio-built-fly-rod-epic-476-fastglass-fly-rod-26.jpg?v=1487199464","variant_ids":[3646774916]},"available":true,"name":"476 FastGlass Fly Rod - Olive \/ Titanium","public_title":"Olive \/ Titanium","options":["Olive","Titanium"],"price":115000,"weight":5000,"compare_at_price":null,"inventory_quantity":1,"inventory_management":"shopify","inventory_policy":"deny","barcode":"27974916"}],"images":["\/\/cdn.shopify.com\/s\/files\/1\/0120\/5852\/products\/studio-built-fly-rod-epic-476-fastglass-fly-rod-1.jpg?v=1487199464","\/\/cdn.shopify.com\/s\/files\/1\/0120\/5852\/products\/Amber.jpg?v=1487199464","\/\/cdn.shopify.com\/s\/files\/1\/0120\/5852\/products\/Olive.jpg?v=1487199464","\/\/cdn.shopify.com\/s\/files\/1\/0120\/5852\/products\/Salsa.jpg?v=1487199464","\/\/cdn.shopify.com\/s\/files\/1\/0120\/5852\/products\/So-Blue.jpg?v=1487199464","\/\/cdn.shopify.com\/s\/files\/1\/0120\/5852\/products\/studio-built-fly-rod-epic-476-fastglass-fly-rod-2.jpg?v=1487199464","\/\/cdn.shopify.com\/s\/files\/1\/0120\/5852\/products\/studio-built-fly-rod-epic-476-fastglass-fly-rod-3_4f4eab40-d299-434a-9a07-6fad63aac0e2.jpg?v=1487199464","\/\/cdn.shopify.com\/s\/files\/1\/0120\/5852\/products\/studio-built-fly-rod-epic-476-fastglass-fly-rod-4.jpg?v=1487199464","\/\/cdn.shopify.com\/s\/files\/1\/0120\/5852\/products\/studio-built-fly-rod-epic-476-fastglass-fly-rod-9.jpg?v=1487199464","\/\/cdn.shopify.com\/s\/files\/1\/0120\/5852\/products\/studio-built-fly-rod-epic-476-fastglass-fly-rod-14.jpg?v=1487199464","\/\/cdn.shopify.com\/s\/files\/1\/0120\/5852\/products\/studio-built-fly-rod-epic-476-fastglass-fly-rod-15.jpg?v=1487199464","\/\/cdn.shopify.com\/s\/files\/1\/0120\/5852\/products\/studio-built-fly-rod-epic-476-fastglass-fly-rod-20.jpg?v=1487199464","\/\/cdn.shopify.com\/s\/files\/1\/0120\/5852\/products\/studio-built-fly-rod-epic-476-fastglass-fly-rod-21.jpg?v=1487199464","\/\/cdn.shopify.com\/s\/files\/1\/0120\/5852\/products\/studio-built-fly-rod-epic-476-fastglass-fly-rod-26.jpg?v=1487199464","\/\/cdn.shopify.com\/s\/files\/1\/0120\/5852\/products\/studio-built-fly-rod-epic-476-fastglass-fly-rod-37.jpeg?v=1487199464"],"featured_image":"\/\/cdn.shopify.com\/s\/files\/1\/0120\/5852\/products\/studio-built-fly-rod-epic-476-fastglass-fly-rod-1.jpg?v=1487199464","options":["Blank Color","Reel Seat Finish"],"content":"\u003ch3\u003eMaximum Power in a Tactical Package\u003c\/h3\u003e\n\u003cp\u003eLooking for a shorter blank to fish in tight confined creeks but still want the backbone and pulling power of a larger rod? The 476 is the real deal.\u003c\/p\u003e\n\u003cp\u003eOur most fun casting rod (can we say that?), the 476 boxes well above it's weight, easily horsing out fish in the 2 - 3 kg range (that's 3 to 6 lbs)\u003c\/p\u003e\n\u003cp\u003e\u003cem\u003eThe 476 is a fast, lively, and extremely accurate fly rod.\u003c\/em\u003e\u003c\/p\u003e\n\u003cdiv\u003e\n\u003cstrong\u003eRecommended Line Weight: \u003c\/strong\u003eAFTMA #4 \u003c\/div\u003e\n\u003cp\u003e\u003cstrong\u003eLength:\u003c\/strong\u003e 7'6\"\u003cbr\u003e\u003cstrong\u003ePieces:\u003c\/strong\u003e 4\u003c\/p\u003e\n\u003cp\u003e \u003c\/p\u003e\n\u003cp\u003e\u003cstrong\u003e\u003c\/strong\u003e\u003cstrong\u003eBuilt Epic Tough\u003cbr\u003e\u003c\/strong\u003eEpic glass rods are incredibly tough. Our S2 FastGlass has a far higher strength-to-weight ratio than Carbon fibre (graphite) rods. Epic FastGlass rods can endure more acute and severe bends than the equivalent Carbon fibre, tip sections are stronger and far less susceptible to breakages due to high-sticking and problematic rod angles when pulling against load. \u003c\/p\u003e\n\u003cdiv style=\"line-height: 1.5;\"\u003e\n\u003cul\u003e\u003c\/ul\u003e\n\u003c\/div\u003e\n\u003cul class=\"tabs-content\"\u003e\u003c\/ul\u003e\n\u003ch6\u003eSpecifications\u003c\/h6\u003e\n\u003cp\u003e\u003cspan style=\"line-height: 1.5;\"\u003e\u003cstrong\u003eRecommended line weight\u003c\/strong\u003e:\u003c\/span\u003e\u003cspan style=\"line-height: 1.5;\"\u003e AFTMA #4 \u003cbr\u003e\u003c\/span\u003e\u003cspan style=\"line-height: 1.5;\"\u003e\u003cstrong\u003eLength:\u003c\/strong\u003e\u003c\/span\u003e\u003cspan style=\"line-height: 1.5;\"\u003e 7'6\" \u003cbr\u003e\u003c\/span\u003e\u003cspan style=\"line-height: 1.5;\"\u003e\u003cstrong\u003ePieces:\u003c\/strong\u003e\u003c\/span\u003e\u003cspan style=\"line-height: 1.5;\"\u003e 4  \u003cbr\u003e\u003c\/span\u003e\u003cspan style=\"line-height: 1.5;\"\u003e\u003cstrong\u003eTotal length:\u003c\/strong\u003e\u003c\/span\u003e\u003cspan style=\"line-height: 1.5;\"\u003e 2,265mm \u003cbr\u003e\u003c\/span\u003e\u003cspan style=\"line-height: 1.5;\"\u003e\u003cstrong\u003eERN:\u003c\/strong\u003e\u003c\/span\u003e\u003cspan style=\"line-height: 1.5;\"\u003e (Unwrapped): 3.96 \u003cbr\u003e\u003c\/span\u003e\u003cspan style=\"line-height: 1.5;\"\u003e\u003cstrong\u003eELN:\u003c\/strong\u003e\u003c\/span\u003e\u003cspan style=\"line-height: 1.5;\"\u003e 4 \u003cbr\u003e\u003c\/span\u003e\u003cspan style=\"line-height: 1.5;\"\u003e\u003cstrong\u003eOptimal Grain Window:\u003c\/strong\u003e\u003c\/span\u003e\u003cspan style=\"line-height: 1.5;\"\u003e 120 - 135 Grains \u003cbr\u003e\u003c\/span\u003e\u003cspan style=\"line-height: 1.5;\"\u003e\u003cstrong\u003eEffective Line Range:\u003c\/strong\u003e\u003c\/span\u003e\u003cspan style=\"line-height: 1.5;\"\u003e AFTMA 4 \/ 5 \u003cbr\u003e\u003c\/span\u003e\u003cspan style=\"line-height: 1.5;\"\u003e\u003cstrong\u003eAction:\u003c\/strong\u003e \u003c\/span\u003e\u003cspan style=\"line-height: 1.5;\"\u003eProgressive \/ Mid Flex \/ Medium  \u003cbr\u003e\u003c\/span\u003e\u003cspan style=\"line-height: 1.5;\"\u003e\u003cstrong\u003eTaper:\u003c\/strong\u003e\u003c\/span\u003e\u003cspan style=\"line-height: 1.5;\"\u003e Fast \u003cbr\u003e\u003c\/span\u003e\u003cspan style=\"line-height: 1.5;\"\u003e\u003cstrong\u003eBlank Weight:\u003c\/strong\u003e\u003c\/span\u003e\u003cspan style=\"line-height: 1.5;\"\u003e 47g\u003c\/span\u003e\u003c\/p\u003e\n\u003chr style=\"line-height: 1.5;\"\u003e\n\u003ch5\u003e\n\u003cimg alt=\"Epic Fiberglass Fly Rod\" src=\"\/\/cdn.shopify.com\/s\/files\/1\/0120\/5852\/files\/Epic-Fiberglass-Fly-Rod-Specifications_4_large.png?4328\" style=\"float: none;\"\u003e\u003cbr\u003e\u003cimg src=\"https:\/\/cdn.shopify.com\/s\/files\/1\/0120\/5852\/files\/580-Rod-Power-slider_1.png?5029\" alt=\"Epic 580 s2 Fiberglass Fly Rod Blank\"\u003e\u003cbr\u003e\u003cimg src=\"\/\/cdn.shopify.com\/s\/files\/1\/0120\/5852\/files\/S-Glass_3_large.png?4330\" alt=\"Epic Fiberglass Fly Rod Blank\"\u003e\n\u003c\/h5\u003e\n\u003cspan style=\"line-height: 21px;\"\u003e\u003cbr\u003e\u003c\/span\u003e\n\u003cp\u003e \u003c\/p\u003e"}
476 FastGlass Fly Rod
Maximum Power in a Tactical Package
Looking for a shorter blank to fish in tight confined creeks but still want the backbone and pulling power of a larger rod? The 476 is the real deal.
Our most fun casting rod (can we say that?), the 476 boxes well above it's weight, easily horsing out fish in the 2 - 3 kg range (that's 3 to 6 lbs)
The 476 is a fast, lively, and extremely accurate fly rod.
Recommended Line Weight: AFTMA #4 
Length: 7'6"
Pieces: 4
Built Epic Tough
Epic glass rods are incredibly tough. Our S2 FastGlass has a far higher strength-to-weight ratio than Carbon fibre (graphite) rods. Epic FastGlass rods can endure more acute and severe bends than the equivalent Carbon fibre, tip sections are stronger and far less susceptible to breakages due to high-sticking and problematic rod angles when pulling against load. 
Recommended line weight: AFTMA #4 
Length: 7'6" 
Pieces: 4  
Total length: 2,265mm 
ERN: (Unwrapped): 3.96 
ELN: 4 
Optimal Grain Window: 120 - 135 Grains 
Effective Line Range: AFTMA 4 / 5 
Action: Progressive / Mid Flex / Medium  
Taper: Fast 
Blank Weight: 47g
---



Customer Reviews
Reviews (3)
Questions (0)
I love it!
My EPIC 476 was the first fly-rod I've bought blind, without checking it in the shop or directly on the water in advance. Besides this, I've never fished a glass-rod before and was a little nervous about it... I was only used to medium-fast or fast graphite rods (mostly Sage and Loop) When my rod arrived, I fell immediately in love: Beautifully crafted with it's perfectly wrapped rings and a translucent blank which seems to glowin the sunlight. The performance on the water was even better: During casting, there is not much difference to a graphite fly rod no flabby blank and no unnecessary false-casting. But the most fun is fighing the fish: You can feel nearly every movement, the rod flexes extremely well and still has enough power to tackle bigger fish and keep them away from heavy cover. Here is an example: I've hooked the fish just behind a bush and I had no problem, keeping it away from the branches: Final statement: This rod is definitely a keeper!
First impressions
I'll qualify (disqualify?) by stating I'm no pro, I own one other fly rod, a #7 TFO that I use sporadically in the salt, maybe because I was never having quite as much fun casting it as I thought I should be unless I got the rare opportunity to use it several days running. My little Salsa 476 (the Atomic Dragonfly) is a different beast. I was wary of paying that much sight unseen, but all of the reviews were so good and it sounded like what I wanted to add some fun to casting. For once I seem to have got it right, it's exactly as expected and more so. Apart from being a thing of beauty (I now have four children) it feels magic, not sure how to describe, like scrolling down a brand new smartphone, sort of buttery rather than that limp noodles feel of old glass. Had a couple of Barrio lines ready, so out we went for a fling. Still lots to learn, can't wait, but soon as I remembered to slow down a touch I was getting some nice loops, even with a bit of wind. I was having fun. Anyway, sorry to say it's maiden trip was less than successful: I tried for yellowfish on the Pungwe River (extreme eastern Zimbabwe) but, at low water, seems we'd been beaten by the poisoners and only saw a few small fish; and then for small tigerfish on the Upper Zambezi in a spot where we'd caught heaps on spinners and seen an African pike, which the Epic would have been perfect for. Long story short, rainy night, lots of flying ants out, and we subsequently saw very few fish at all, the greedy buggers! In real life, though, it cast the flies I was using nicely (not one wind knot!) and only touched the edge of my rookie abilities with the biggest bead heads (big woolly buggers), sure timing would soon sort that. I was just a bit surprised to find no keeper eye, seems like an odd omission, but am I missing something? No matter, I'm going to love getting to know this one for many years, I think whiting down the hill (I'm in Sydney) are next! Thanks Carl and the rest, great service too!
Pocket rocket
What a surprise package this turned out to be. Beautifully finished, light in the hand, but easily capable of casting bead head nymphs and bulky dries. I've used it on the Waitaki and not felt under powered in any way. On the side streams it's perfect for a flick here and there where longer rods would just be too long. Great rod, highly recommended.
- THE EPIC PROMISE -

We guarantee everything we make.
If one of our products fails to meet your expectations either at the time you receive it, or over the next 30 days, contact us and we'll arrange a total refund and return at our cost, anywhere in the world.

The Epic Lifetime Warranty.
Every new Epic fly rod or blank that we produce is covered by our lifetime, original owner warranty. This warranty covers failure due to defects in material or workmanship of our product. Any Epic fly rod built by the Swift Fly Fishing company that fails due to misuse, negligence or normal wear-and-tear will be repaired or replaced at a nominal cost plus shipping at our discretion.
Full details of our warrenty, guarantee, replacment and returns policy can be found here
Gold standard for trout rods
"I live in the northeast part of the US and, when I'm not working, I'm chasing trout on small technical streams (e.g. Mossy Creek) in the east and bigger rivers out west like the Colorado, Blue, Arkansas or South Platte. This rod, the 690 C, is exceptional for any form of trout fishing. It's my favorite performance rod and is the benchmark against which any other rod should be evaluated. It's beautifully crafted and whether I'm fishing with friends or using a guide, everyone wants to give it a go and comes away impressed. I can't say enough good things about the production quality and the customer service I've received from Swift. Keep doing what you're doing - everyone is taking notice."
Michael Reingruber

"I've cast a lot of different rods over the years and my first encounter with the Epic caught me by surprise - this rod is truly outstanding."

"Dear Carl and team, This unit is sweet - a bit like stepping out of a VeeDub into a Porsche; I'm feeling the love! Many Tx, Henry"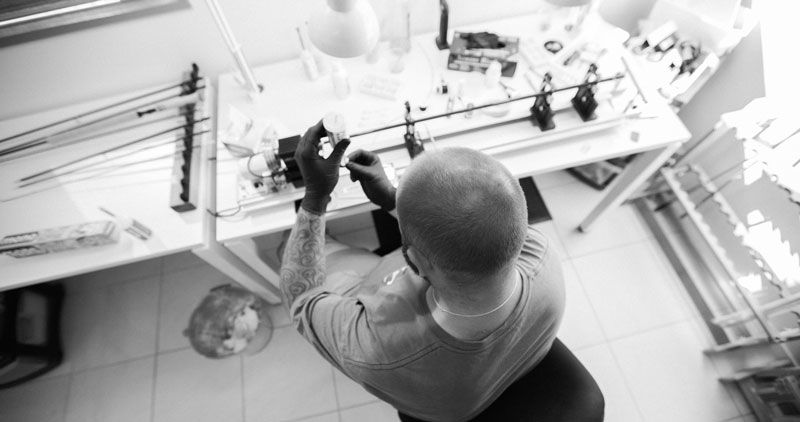 Your fly rod handcrafted to order
Choose the options you'd like on your Epic fly rod and we'll build it for you with tender loving care right here in our Wanaka Studio. Each Studio built fly rod is handcrafted specifically for you from start to finish and each is identified by a unique laser engraved winding check registered against your name in our owners database. Allow two to three weeks for your build - we'll be in touch with details.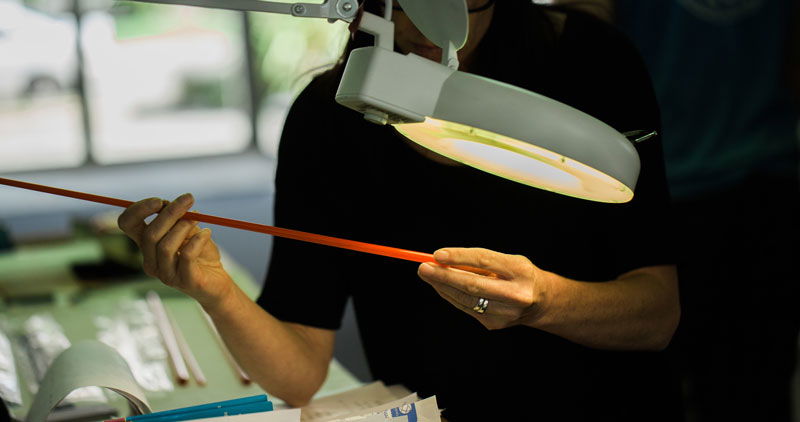 Each hand crafted fly rod boasts the very finest components possible
Titanium stripping guides with Japanese Silicon Carbide insert
Flor grade quality Portuguese cork grip in your choice of style
Japanese silk wraps
Genuine Snake Brand Guides either e-coated or black nickel
CNC Bar stock Alloy reel seats that will last a lifetime
Our hand ferruled "Katana" rod tube
The most sophisticated fly rod blanks made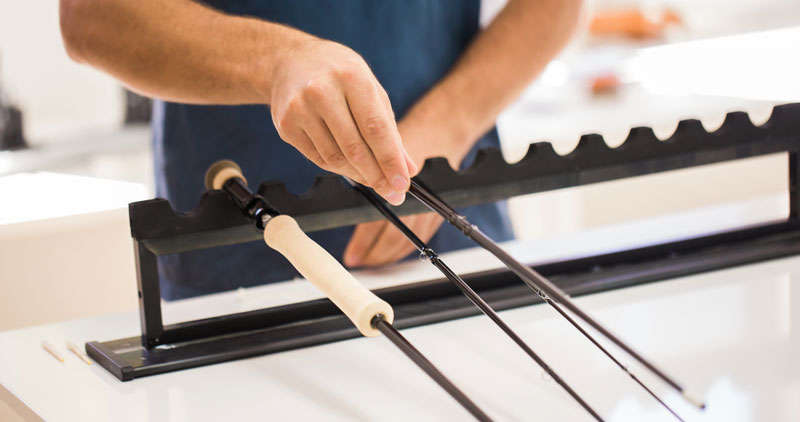 Generation two nano-technology. Epic C series are a state of the art fly rod blank. The most sophisticated composite materials and production processes are used in their construction. Proprietary nano-resins, full Helical construction, multi modulus, and unidirectional carbon fibre - We believe this is the most sophisticated fly rod blank available.


When purchasing one of our advanced carbon fibre rods you can be confident that you are investing in premium engineering, componentry and craftsmanship.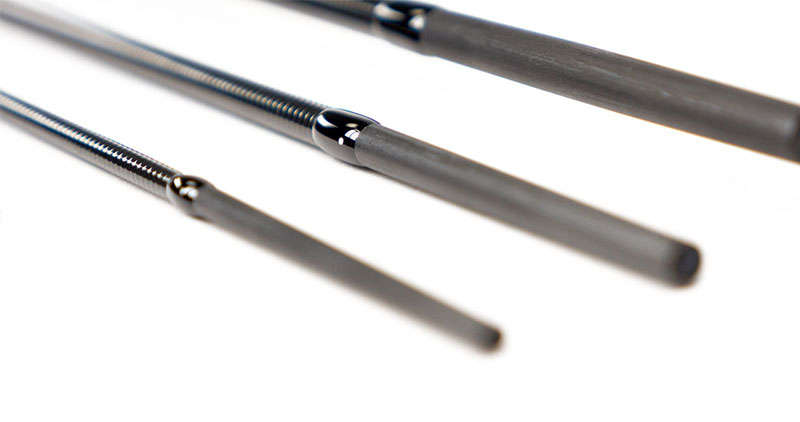 The Epic Ground Ferrule System™
Epic carbon fibre fly rod blanks feature our proprietary ground ferrule system. Each male ferrule is hand ground to perfectly fit the female section of the blank. Female sections are all internally reinforced.
A secure positive fit eliminates knocks
Smoother energy transfer
Eliminates flat spots
Non slip - reduces twisting due to torque
Internally reinforced ferrules - eliminates ferrule fracture
Durable & scratch resistant
Gets better with use
Precise fit, sections are interchangeable, in the case of tip breakages replacement sections can be sent out immediately. No need to return the blank for a fit.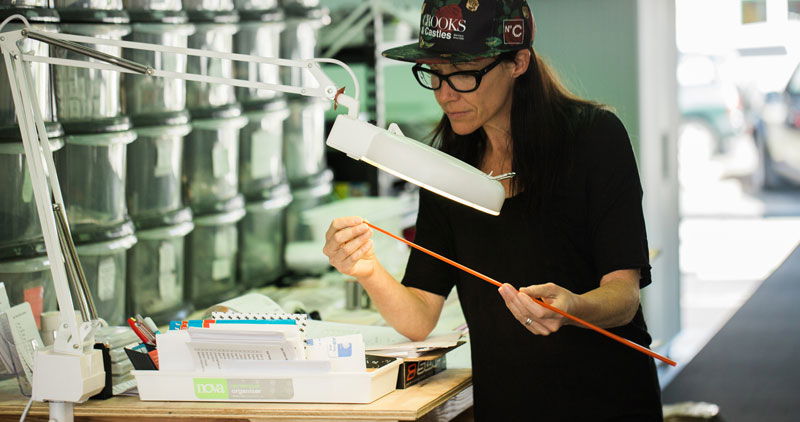 We craft the world's very best fly rods. The finest Japanese silk wraps, premium quality guides from Snake brand USA,
and the very finest cork sourced directly from Portugal to ensure quality.
These are just a few of the things we've incorporated into our designs to ensure you are fishing a quality fly rod that will last a lifetime.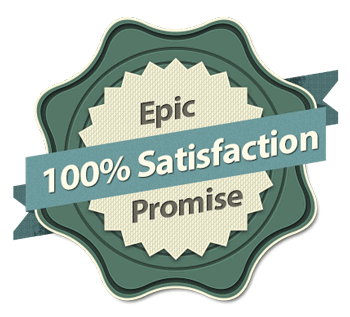 If you order one of our beautiful handmade fly rods and are not 100% delighted with it we'll refund your purchase in full.


We are so very confident that every fly rod we make is of the highest quality possible, we guarantee your complete and absolute satisfaction or your money back.
If one of our products fails to meet your expectations either at the time you receive it, or over the next 30 days,
contact
us and tell us why you are disappointed and we'll fix it or arrange a total refund.