{"id":146694040,"title":"480 FastGlass Fly Rod Blank","handle":"epic-480-fastglass-blank","description":"\u003ch2\u003eClassic Glass Feel\u003c\/h2\u003e\n\u003cp\u003eSuper smooth with plenty of reserve power. At 8ft for a four weight, the 480 is a smooth, full flexing fly rod blank perfect for light dry fly fishing.\u003c\/p\u003e\n\u003cp\u003eHighly regarded by those that favour a slower deeper bending fly rod, the 480's classic slow glass action will not disappoint.\u003c\/p\u003e\n\u003cp\u003eOur Epic™ 480 is crafted from Unidirectional S2 Glass, this material is stronger and lighter than e-glass or standard s-glass.\u003c\/p\u003e\n\u003cdiv style=\"line-height: 1.5;\"\u003e\n\u003cstrong\u003e\u003cbr\u003eRecommended line weight:\u003c\/strong\u003e AFTMA #4 \u003c\/div\u003e\n\u003cp\u003e\u003cstrong\u003eLength:\u003c\/strong\u003e 8'\u003cbr\u003e\u003cstrong\u003ePieces:\u003c\/strong\u003e 4\u003c\/p\u003e\n\u003ch6\u003eSpecifications\u003c\/h6\u003e\n\u003cp\u003e\u003cspan style=\"color: #000000;\"\u003e\u003cstrong\u003eRecommended line weight\u003c\/strong\u003e:\u003c\/span\u003e\u003cspan style=\"line-height: 1.5;\"\u003e AFTMA #4 \u003cbr\u003e\u003c\/span\u003e\u003cspan style=\"color: #000000;\"\u003e\u003cstrong\u003eLength:\u003c\/strong\u003e\u003c\/span\u003e\u003cspan style=\"line-height: 1.5;\"\u003e 8' \u003cbr\u003e\u003c\/span\u003e\u003cspan style=\"color: #000000;\"\u003e\u003cstrong\u003ePieces:\u003c\/strong\u003e\u003c\/span\u003e\u003cspan style=\"line-height: 1.5;\"\u003e 4  \u003cbr\u003e\u003c\/span\u003e\u003cspan style=\"color: #000000;\"\u003e\u003cstrong\u003eTotal length:\u003c\/strong\u003e\u003c\/span\u003e\u003cspan style=\"line-height: 1.5;\"\u003e 2,438mm \u003cbr\u003e\u003c\/span\u003e\u003cspan style=\"color: #000000;\"\u003e\u003cstrong\u003eERN:\u003c\/strong\u003e\u003c\/span\u003e\u003cspan style=\"line-height: 1.5;\"\u003e (Unwrapped): 3.66 \u003cbr\u003e\u003c\/span\u003e\u003cspan style=\"color: #000000;\"\u003e\u003cstrong\u003eELN:\u003c\/strong\u003e\u003c\/span\u003e\u003cspan style=\"line-height: 1.5;\"\u003e 4\u003cbr\u003e\u003c\/span\u003e\u003cspan style=\"color: #000000;\"\u003e\u003cstrong\u003eOptimal Grain Window:\u003c\/strong\u003e\u003c\/span\u003e\u003cspan style=\"line-height: 1.5;\"\u003e 120 - 135 Grains\u003cbr\u003e\u003c\/span\u003e\u003cspan style=\"color: #000000;\"\u003e\u003cstrong\u003eEffective Line Range:\u003c\/strong\u003e\u003c\/span\u003e\u003cspan style=\"line-height: 1.5;\"\u003e AFTMA 4 \/ 5\u003cbr\u003e\u003c\/span\u003e\u003cspan style=\"color: #000000;\"\u003e\u003cstrong\u003eAction:\u003c\/strong\u003e \u003c\/span\u003e\u003cspan style=\"line-height: 1.5;\"\u003eProgressive \/ Mid Flex \/ Medium \u003cbr\u003e\u003c\/span\u003e\u003cspan style=\"color: #000000;\"\u003e\u003cstrong\u003eTaper:\u003c\/strong\u003e\u003c\/span\u003e\u003cspan style=\"line-height: 1.5;\"\u003e Fast\u003cbr\u003e\u003c\/span\u003e\u003cspan style=\"color: #000000;\"\u003e\u003cstrong\u003eBlank Weight:\u003c\/strong\u003e\u003c\/span\u003e\u003cspan style=\"line-height: 1.5;\"\u003e 40g\u003cbr\u003e\u003c\/span\u003e\u003cstrong style=\"line-height: 1.5;\"\u003eButt Diameter\u003c\/strong\u003e\u003cspan style=\"line-height: 1.5;\"\u003e: 10mm\u003c\/span\u003e\u003c\/p\u003e\n\u003cbr style=\"line-height: 1.5;\"\u003e\n\u003chr style=\"line-height: 1.5;\"\u003e\n\u003ch5 style=\"text-align: left;\"\u003e\u003cimg alt=\"Fiberglass Fly Rod Action Chart\" src=\"\/\/cdn.shopify.com\/s\/files\/1\/0120\/5852\/files\/480-Action-Chart_5bb54ed7-c56f-4d6f-9a99-0bf153a08ca6_large.png?1442508025814353614\" style=\"float: none;\"\u003e\u003c\/h5\u003e\n\u003ch5 style=\"text-align: left;\"\u003e\n\u003cimg alt=\"Epic 480 Fiberglass Fly Rod Blank\" src=\"\/\/cdn.shopify.com\/s\/files\/1\/0120\/5852\/files\/480-Rod-Power-slider_large.png?4956\"\u003e\u003cbr\u003e\u003cimg alt=\"Epic Fiberglass Fly Rod Blank\" src=\"\/\/cdn.shopify.com\/s\/files\/1\/0120\/5852\/files\/S-Glass_3_large.png?4330\"\u003e\n\u003c\/h5\u003e","published_at":"2013-07-03T11:00:00+12:00","created_at":"2013-07-09T21:05:40+12:00","vendor":"SWIFT","type":"Fly Rod Blank","tags":[],"price":49500,"price_min":49500,"price_max":49500,"available":true,"price_varies":false,"compare_at_price":null,"compare_at_price_min":0,"compare_at_price_max":0,"compare_at_price_varies":false,"variants":[{"id":12405485892,"title":"Olive 4 pce","option1":"Olive 4 pce","option2":null,"option3":null,"sku":"480B_olive_4","requires_shipping":true,"taxable":true,"featured_image":{"id":8249293636,"product_id":146694040,"position":1,"created_at":"2015-12-04T09:27:22+13:00","updated_at":"2015-12-04T09:27:37+13:00","width":800,"height":342,"src":"https:\/\/cdn.shopify.com\/s\/files\/1\/0120\/5852\/products\/fly-rod-blank-epic-480-fastglass-fly-rod-blank-1.jpg?v=1449174457","variant_ids":[12405485892]},"available":true,"name":"480 FastGlass Fly Rod Blank - Olive 4 pce","public_title":"Olive 4 pce","options":["Olive 4 pce"],"price":49500,"weight":3000,"compare_at_price":null,"inventory_quantity":8,"inventory_management":"shopify","inventory_policy":"deny","barcode":"86685892"},{"id":12405516548,"title":"So Blue 4 pce","option1":"So Blue 4 pce","option2":null,"option3":null,"sku":"480B_so_blue_4","requires_shipping":true,"taxable":true,"featured_image":{"id":8249295044,"product_id":146694040,"position":2,"created_at":"2015-12-04T09:27:25+13:00","updated_at":"2015-12-04T09:27:37+13:00","width":800,"height":342,"src":"https:\/\/cdn.shopify.com\/s\/files\/1\/0120\/5852\/products\/fly-rod-blank-epic-480-fastglass-fly-rod-blank-2.jpg?v=1449174457","variant_ids":[12405516548]},"available":true,"name":"480 FastGlass Fly Rod Blank - So Blue 4 pce","public_title":"So Blue 4 pce","options":["So Blue 4 pce"],"price":49500,"weight":3000,"compare_at_price":null,"inventory_quantity":10,"inventory_management":"shopify","inventory_policy":"continue","barcode":"86716548"},{"id":12405620676,"title":"Salsa 4 pce","option1":"Salsa 4 pce","option2":null,"option3":null,"sku":"480B_salsa_4","requires_shipping":true,"taxable":true,"featured_image":{"id":8249296900,"product_id":146694040,"position":3,"created_at":"2015-12-04T09:27:28+13:00","updated_at":"2015-12-04T09:27:37+13:00","width":800,"height":342,"src":"https:\/\/cdn.shopify.com\/s\/files\/1\/0120\/5852\/products\/fly-rod-blank-epic-480-fastglass-fly-rod-blank-3.jpg?v=1449174457","variant_ids":[12405620676]},"available":true,"name":"480 FastGlass Fly Rod Blank - Salsa 4 pce","public_title":"Salsa 4 pce","options":["Salsa 4 pce"],"price":49500,"weight":3000,"compare_at_price":null,"inventory_quantity":3,"inventory_management":"shopify","inventory_policy":"continue","barcode":"86820676"},{"id":12405597956,"title":"Amber 4 pce","option1":"Amber 4 pce","option2":null,"option3":null,"sku":"480B_amber_4","requires_shipping":true,"taxable":true,"featured_image":{"id":8249298052,"product_id":146694040,"position":4,"created_at":"2015-12-04T09:27:31+13:00","updated_at":"2015-12-04T09:27:37+13:00","width":800,"height":342,"src":"https:\/\/cdn.shopify.com\/s\/files\/1\/0120\/5852\/products\/fly-rod-blank-epic-480-fastglass-fly-rod-blank-4.jpg?v=1449174457","variant_ids":[12405597956]},"available":true,"name":"480 FastGlass Fly Rod Blank - Amber 4 pce","public_title":"Amber 4 pce","options":["Amber 4 pce"],"price":49500,"weight":3000,"compare_at_price":null,"inventory_quantity":4,"inventory_management":"shopify","inventory_policy":"deny","barcode":"86797956"},{"id":12405546564,"title":"Nude 4 pce","option1":"Nude 4 pce","option2":null,"option3":null,"sku":"480B_nude_4","requires_shipping":true,"taxable":true,"featured_image":{"id":8249298564,"product_id":146694040,"position":5,"created_at":"2015-12-04T09:27:34+13:00","updated_at":"2015-12-04T09:27:37+13:00","width":800,"height":342,"src":"https:\/\/cdn.shopify.com\/s\/files\/1\/0120\/5852\/products\/fly-rod-blank-epic-480-fastglass-fly-rod-blank-5.jpg?v=1449174457","variant_ids":[12405546564]},"available":true,"name":"480 FastGlass Fly Rod Blank - Nude 4 pce","public_title":"Nude 4 pce","options":["Nude 4 pce"],"price":49500,"weight":3000,"compare_at_price":null,"inventory_quantity":6,"inventory_management":"shopify","inventory_policy":"continue","barcode":"86746564"},{"id":438795521,"title":"Mocha 4 pce","option1":"Mocha 4 pce","option2":null,"option3":null,"sku":"480B_mocha_4","requires_shipping":true,"taxable":true,"featured_image":{"id":8249300292,"product_id":146694040,"position":6,"created_at":"2015-12-04T09:27:37+13:00","updated_at":"2015-12-04T09:27:40+13:00","width":800,"height":342,"src":"https:\/\/cdn.shopify.com\/s\/files\/1\/0120\/5852\/products\/fly-rod-blank-epic-480-fastglass-fly-rod-blank-6.jpg?v=1449174460","variant_ids":[438795521]},"available":false,"name":"480 FastGlass Fly Rod Blank - Mocha 4 pce","public_title":"Mocha 4 pce","options":["Mocha 4 pce"],"price":49500,"weight":3000,"compare_at_price":null,"inventory_quantity":0,"inventory_management":"shopify","inventory_policy":"deny","barcode":"19995521"}],"images":["\/\/cdn.shopify.com\/s\/files\/1\/0120\/5852\/products\/fly-rod-blank-epic-480-fastglass-fly-rod-blank-1.jpg?v=1449174457","\/\/cdn.shopify.com\/s\/files\/1\/0120\/5852\/products\/fly-rod-blank-epic-480-fastglass-fly-rod-blank-2.jpg?v=1449174457","\/\/cdn.shopify.com\/s\/files\/1\/0120\/5852\/products\/fly-rod-blank-epic-480-fastglass-fly-rod-blank-3.jpg?v=1449174457","\/\/cdn.shopify.com\/s\/files\/1\/0120\/5852\/products\/fly-rod-blank-epic-480-fastglass-fly-rod-blank-4.jpg?v=1449174457","\/\/cdn.shopify.com\/s\/files\/1\/0120\/5852\/products\/fly-rod-blank-epic-480-fastglass-fly-rod-blank-5.jpg?v=1449174457","\/\/cdn.shopify.com\/s\/files\/1\/0120\/5852\/products\/fly-rod-blank-epic-480-fastglass-fly-rod-blank-6.jpg?v=1449174460"],"featured_image":"\/\/cdn.shopify.com\/s\/files\/1\/0120\/5852\/products\/fly-rod-blank-epic-480-fastglass-fly-rod-blank-1.jpg?v=1449174457","options":["Color"],"content":"\u003ch2\u003eClassic Glass Feel\u003c\/h2\u003e\n\u003cp\u003eSuper smooth with plenty of reserve power. At 8ft for a four weight, the 480 is a smooth, full flexing fly rod blank perfect for light dry fly fishing.\u003c\/p\u003e\n\u003cp\u003eHighly regarded by those that favour a slower deeper bending fly rod, the 480's classic slow glass action will not disappoint.\u003c\/p\u003e\n\u003cp\u003eOur Epic™ 480 is crafted from Unidirectional S2 Glass, this material is stronger and lighter than e-glass or standard s-glass.\u003c\/p\u003e\n\u003cdiv style=\"line-height: 1.5;\"\u003e\n\u003cstrong\u003e\u003cbr\u003eRecommended line weight:\u003c\/strong\u003e AFTMA #4 \u003c\/div\u003e\n\u003cp\u003e\u003cstrong\u003eLength:\u003c\/strong\u003e 8'\u003cbr\u003e\u003cstrong\u003ePieces:\u003c\/strong\u003e 4\u003c\/p\u003e\n\u003ch6\u003eSpecifications\u003c\/h6\u003e\n\u003cp\u003e\u003cspan style=\"color: #000000;\"\u003e\u003cstrong\u003eRecommended line weight\u003c\/strong\u003e:\u003c\/span\u003e\u003cspan style=\"line-height: 1.5;\"\u003e AFTMA #4 \u003cbr\u003e\u003c\/span\u003e\u003cspan style=\"color: #000000;\"\u003e\u003cstrong\u003eLength:\u003c\/strong\u003e\u003c\/span\u003e\u003cspan style=\"line-height: 1.5;\"\u003e 8' \u003cbr\u003e\u003c\/span\u003e\u003cspan style=\"color: #000000;\"\u003e\u003cstrong\u003ePieces:\u003c\/strong\u003e\u003c\/span\u003e\u003cspan style=\"line-height: 1.5;\"\u003e 4  \u003cbr\u003e\u003c\/span\u003e\u003cspan style=\"color: #000000;\"\u003e\u003cstrong\u003eTotal length:\u003c\/strong\u003e\u003c\/span\u003e\u003cspan style=\"line-height: 1.5;\"\u003e 2,438mm \u003cbr\u003e\u003c\/span\u003e\u003cspan style=\"color: #000000;\"\u003e\u003cstrong\u003eERN:\u003c\/strong\u003e\u003c\/span\u003e\u003cspan style=\"line-height: 1.5;\"\u003e (Unwrapped): 3.66 \u003cbr\u003e\u003c\/span\u003e\u003cspan style=\"color: #000000;\"\u003e\u003cstrong\u003eELN:\u003c\/strong\u003e\u003c\/span\u003e\u003cspan style=\"line-height: 1.5;\"\u003e 4\u003cbr\u003e\u003c\/span\u003e\u003cspan style=\"color: #000000;\"\u003e\u003cstrong\u003eOptimal Grain Window:\u003c\/strong\u003e\u003c\/span\u003e\u003cspan style=\"line-height: 1.5;\"\u003e 120 - 135 Grains\u003cbr\u003e\u003c\/span\u003e\u003cspan style=\"color: #000000;\"\u003e\u003cstrong\u003eEffective Line Range:\u003c\/strong\u003e\u003c\/span\u003e\u003cspan style=\"line-height: 1.5;\"\u003e AFTMA 4 \/ 5\u003cbr\u003e\u003c\/span\u003e\u003cspan style=\"color: #000000;\"\u003e\u003cstrong\u003eAction:\u003c\/strong\u003e \u003c\/span\u003e\u003cspan style=\"line-height: 1.5;\"\u003eProgressive \/ Mid Flex \/ Medium \u003cbr\u003e\u003c\/span\u003e\u003cspan style=\"color: #000000;\"\u003e\u003cstrong\u003eTaper:\u003c\/strong\u003e\u003c\/span\u003e\u003cspan style=\"line-height: 1.5;\"\u003e Fast\u003cbr\u003e\u003c\/span\u003e\u003cspan style=\"color: #000000;\"\u003e\u003cstrong\u003eBlank Weight:\u003c\/strong\u003e\u003c\/span\u003e\u003cspan style=\"line-height: 1.5;\"\u003e 40g\u003cbr\u003e\u003c\/span\u003e\u003cstrong style=\"line-height: 1.5;\"\u003eButt Diameter\u003c\/strong\u003e\u003cspan style=\"line-height: 1.5;\"\u003e: 10mm\u003c\/span\u003e\u003c\/p\u003e\n\u003cbr style=\"line-height: 1.5;\"\u003e\n\u003chr style=\"line-height: 1.5;\"\u003e\n\u003ch5 style=\"text-align: left;\"\u003e\u003cimg alt=\"Fiberglass Fly Rod Action Chart\" src=\"\/\/cdn.shopify.com\/s\/files\/1\/0120\/5852\/files\/480-Action-Chart_5bb54ed7-c56f-4d6f-9a99-0bf153a08ca6_large.png?1442508025814353614\" style=\"float: none;\"\u003e\u003c\/h5\u003e\n\u003ch5 style=\"text-align: left;\"\u003e\n\u003cimg alt=\"Epic 480 Fiberglass Fly Rod Blank\" src=\"\/\/cdn.shopify.com\/s\/files\/1\/0120\/5852\/files\/480-Rod-Power-slider_large.png?4956\"\u003e\u003cbr\u003e\u003cimg alt=\"Epic Fiberglass Fly Rod Blank\" src=\"\/\/cdn.shopify.com\/s\/files\/1\/0120\/5852\/files\/S-Glass_3_large.png?4330\"\u003e\n\u003c\/h5\u003e"}
480 FastGlass Fly Rod Blank
480 FastGlass Fly Rod Blank
Classic Glass Feel
Super smooth with plenty of reserve power. At 8ft for a four weight, the 480 is a smooth, full flexing fly rod blank perfect for light dry fly fishing.
Highly regarded by those that favour a slower deeper bending fly rod, the 480's classic slow glass action will not disappoint.
Our Epic™ 480 is crafted from Unidirectional S2 Glass, this material is stronger and lighter than e-glass or standard s-glass.

Recommended line weight: AFTMA #4 
Length: 8'
Pieces: 4
Recommended line weight: AFTMA #4
Length: 8' 
Pieces: 4  
Total length: 2,438mm 
ERN: (Unwrapped): 3.66 
ELN: 4
Optimal Grain Window: 120 - 135 Grains
Effective Line Range: AFTMA 4 / 5
Action: Progressive / Mid Flex / Medium 
Taper: Fast
Blank Weight: 40g
Butt Diameter: 10mm
---



Customer Reviews
Reviews (10)
Questions (0)
07/17/2017
Pete E.
United States
Epic (s) all the way
I've been building on the Epic blanks ever since Carl contacted me a few years ago. I was amazed that a rod company would be interested in a small one off custom shop like mine. Well, they do care and the rest is history. I currently have 5 Epic blanks on the bench in various states of construction. The 590C & 690C blow other carbon/ graphite blanks out of the H2O. And I have built on almost every blank out there. But.... I am a Bamboo & glass junkie and I haven't fished glass like Epic glass. Top shelf all the way. As I tell customers Epic glass isn't mushy glass, it's glass with attitude. Pete Renaissance Rods
05/13/2016
Steve Henriksen
Epic 480
This was the 4th Epic I've built for myself or customers. Based on each of their reactions upon seeing and feeling the rod for the very first time I will be making plenty more. I'm sure they will enjoy fishing their rod as much as I have the last few years.
12/16/2015
Henrik Wallberg
The Epic 480 Love Stick
I admit, it was the look of them that turned me on to the Epic rods in the first place. How can you not get curious of a series of rods that basically scream "-Hey, look at me. Look what I can do!" And as luck had it, a guest at our lodge had several rods with him so I got the opportunity to try them out before I got one of my own. Just perfect for delicate presentations on the smaller rivers, but it still packs a punch. So smooth and it protects thin leaders like no other rod I have tried. My 480 will definitely get company from of few more colorful friends. Stay Epic!
11/17/2015
Christian Rinsche
Epic 480 FastGlass Fly Rod Blank
Finally I swing sensitively this loveley blue Epic 480 FastGlass Fly Rod blank in my right hand and I am very impressed. Blue as the wide sky in New Zealand with a nice slow but even powerful parabolic action I have to build now immediately my new dream fly rod. I am totally thrilled about the beautiful products of the Epic Swift Fly Fishing company !
Epic 480 Builds
As a long time rod builder, I excited about adding these rods to my offerings. They fish uniquely and well and Swift is great to work with. A great product. Love the tubes!
- THE EPIC PROMISE -

We guarantee everything we make.
If one of our products fails to meet your expectations either at the time you receive it, or over the next 30 days, contact us and we'll arrange a total refund and return at our cost, anywhere in the world.

The Epic Lifetime Warranty.
Every new Epic fly rod or blank that we produce is covered by our lifetime, original owner warranty. This warranty covers failure due to defects in material or workmanship of our product. Any Epic fly rod built by the Swift Fly Fishing company that fails due to misuse, negligence or normal wear-and-tear will be repaired or replaced at a nominal cost plus shipping at our discretion.
Full details of our warrenty, guarantee, replacment and returns policy can be found here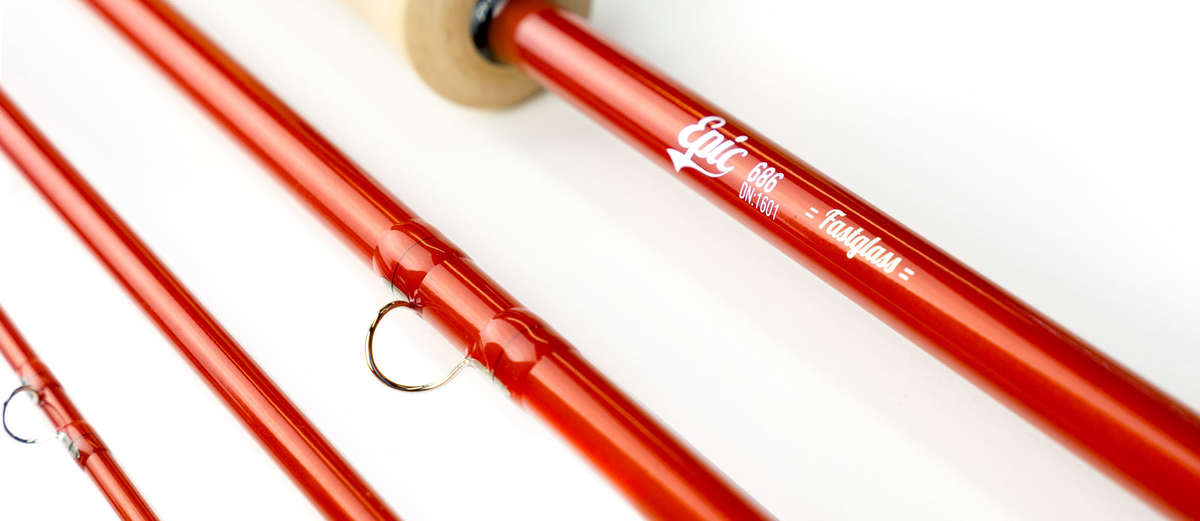 Epic® FastGlass®
Smooth. Powerful. Tough.
Epic® fly rod blanks are made to exacting standards using a proprietary S2-glass composite. This material features a fully unidirectional fibre layup which aligns fibers longitudinally along the blank. The result is an incredibly strong, light and powerful tube with a crisp, precise response. This recipe, rolled to our fast tapers combine silky smooth easy loading with trophy pulling power. We call it FastGlass®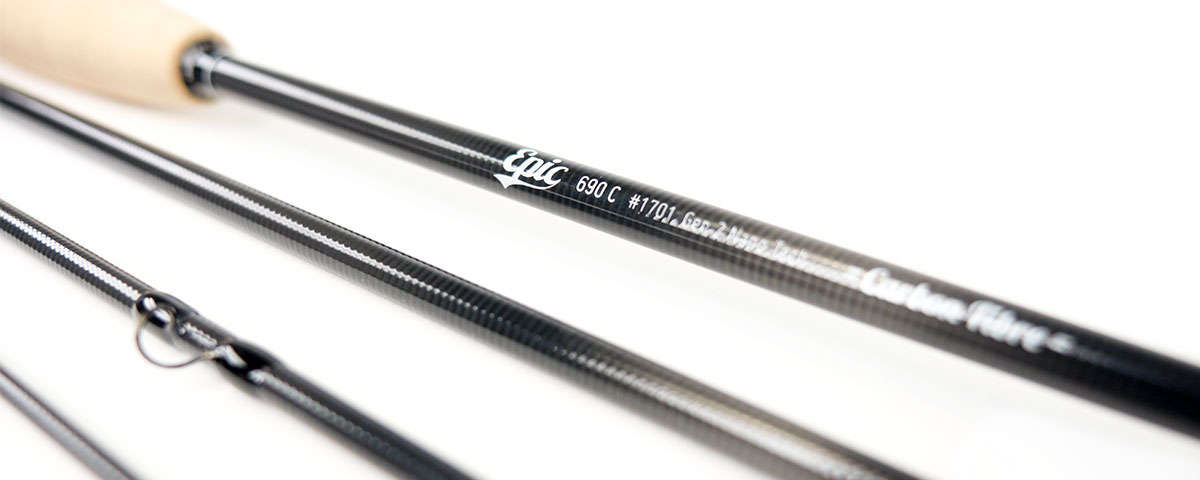 Epic® C Series Carbon Fibre,
As good as it gets.
Epic C series are a state of the art carbon fibre (Graphite) fly rod blank. The most sophisticated composite materials and production processes are used in their construction. Silica Nano resin, full Helical construction, multi modulus, all unidirectional carbon fibre and internally reenforced ferrule system. This is the most sophisticated fly rod blank available.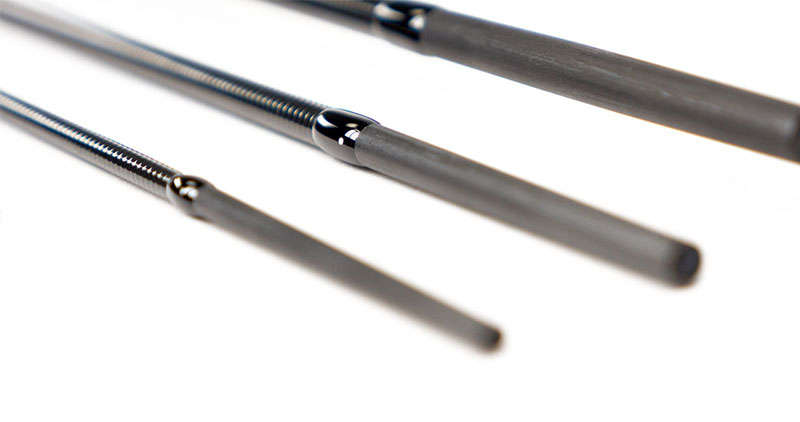 The Epic Ground Ferrule System™
Each male ferrule is hand ground to perfectly fit the female section of the blank.
A secure positive fit eliminates knocks
Smoother energy transfer. Eliminates flat spots
Non slip - reduces twisting due to torque
Internally reinforced ferrules - eliminates ferrule fracture
Durable & scratch resistant
Gets better with use
Precise fit, sections are interchangeable, in the case of tip breakages replacement sections can be sent out immediately. No need to return the blank for a fit.
What the experts say
The most popular GLASS streamer rod on the market.
"I really believe the EPIC 686 is by far the most popular GLASS streamer rod on the market. More often than not, I get requests for the 686 and most of the time in Salsa. Carl has created a wonderful, and powerful taper and folks love them!"
Shane Gray. Graywolf Rods
"I will only touch on this for a second because everyone keeps hearing how phenomenal the 686 is. This is a phenomenal blank.
The beauty is in the fact that the rod will lay out ten feet of line with the delicacy of a full flex cane, but when called upon fire 95' of line into a stiff breeze. It does all of this with a great deal of feel and composure that most rods will never achieve.
It is quite possibly one of the best 6wts on the market glass, graph, or grass."
Zeb Tonkavich. Snowman Custom Rod Works
"the Epic 686 is (f#$%'ing) magic in my hands. This fly rod is responsive, quick to load, and a powerhouse that lays out very long accurate casts with relative ease."
Cameron Mortenson. The Fiberglass Manifesto