{"id":4468485508,"title":"Packlight 476 Fly Rod Blank","handle":"packlight-476-5-piece","description":"\u003ch2\u003ePacklight - the super versatile 5 piece glass travel blank.\u003c\/h2\u003e\n\u003cp\u003eHead for the hills, answer the call and pack in your favorite adventure stick.\u003c\/p\u003e\n\u003cp\u003eWe've taken our amazing 476 blank and reconfigured it as a 5 piece travel rod, now small and compact enough to easily slip down the side of a backpack or rucksack.\u003c\/p\u003e\n\u003cul\u003e\n\u003cli\u003e\n\u003cp\u003e\u003cspan style=\"line-height: 1.4;\"\u003eIncredibly light. A mere 46 grams (1.62 ounces)\u003c\/span\u003e\u003c\/p\u003e\n\u003c\/li\u003e\n\u003cli\u003e\n\u003cp\u003e\u003cspan style=\"line-height: 1.4;\"\u003eIncredibly \u003c\/span\u003e\u003cspan style=\"line-height: 21px;\"\u003econvenient.\u003c\/span\u003e\u003cspan style=\"line-height: 1.4;\"\u003e Only 495 mm long (19.5 inches)\u003c\/span\u003e\u003c\/p\u003e\n\u003c\/li\u003e\n\u003cli\u003e\n\u003cp\u003e\u003cspan style=\"line-height: 1.4;\"\u003eIncredibly tough. Made from fully unidirectional S2 Fastglass\u003c\/span\u003e\u003c\/p\u003e\n\u003c\/li\u003e\n\u003c\/ul\u003e\n\u003cp\u003eLooking for a shorter blank to fish in tight confined creeks but still want the backbone and pulling power of a much larger rod? - the 476 is the deal. The 476 boxes way above it's weight, easily horsing out fish in the 2 - 3 kg range (that's 3 to 6 lbs) - and yes, we've got plenty of pics to prove it.\u003c\/p\u003e\n\u003cp style=\"line-height: 1.5;\"\u003eThe Epic™ 476 Packlite is crafted from Unidirectional S2 Glass, this material is stiffer and stronger than e-glass or standard s-glass. The 476 Packlight is a powerful and extremely accurate fly rod blank.\u003c\/p\u003e\n\u003cp style=\"line-height: 1.5;\"\u003e*The Packlight package includes our world famous glass rod tube and our matching flip-fit rod sock.\u003c\/p\u003e\n\u003cp style=\"line-height: 1.5;\"\u003e\u003cem\u003eIncludes Epic Packlight decals to suit your build\u003c\/em\u003e\u003c\/p\u003e\n\u003cp style=\"line-height: 1.5;\"\u003e\u003cstrong\u003eColour:\u003c\/strong\u003e Tangerine Dream\u003cbr\u003e\u003cstrong\u003eRecommended Line Weight: \u003c\/strong\u003eAFTMA #4 \u003cbr\u003e\u003cstrong\u003eLength:\u003c\/strong\u003e 7'6\"\u003cbr\u003e\u003cstrong\u003ePieces:\u003c\/strong\u003e 5\u003c\/p\u003e\n\u003ch6\u003eSpecifications\u003c\/h6\u003e\n\u003cp\u003e\u003cspan style=\"color: #000000;\"\u003e\u003cstrong\u003eRecommended line weight\u003c\/strong\u003e: \u003c\/span\u003eAFTMA #4 \u003cbr\u003e\u003cspan style=\"color: #000000;\"\u003e\u003cstrong\u003eLength:\u003c\/strong\u003e\u003c\/span\u003e\u003cspan style=\"line-height: 1.5;\"\u003e 7'6\" \u003cbr\u003e\u003c\/span\u003e\u003cspan style=\"color: #000000;\"\u003e\u003cstrong\u003ePieces:\u003c\/strong\u003e\u003c\/span\u003e\u003cspan style=\"line-height: 1.5;\"\u003e  5\u003cbr\u003e\u003c\/span\u003e\u003cspan style=\"color: #000000;\"\u003e\u003cstrong\u003eTotal length:\u003c\/strong\u003e\u003c\/span\u003e\u003cspan style=\"line-height: 1.5;\"\u003e 2,265mm \u003cbr\u003e\u003c\/span\u003e\u003cspan style=\"color: #000000;\"\u003e\u003cstrong\u003eERN:\u003c\/strong\u003e\u003c\/span\u003e\u003cspan style=\"line-height: 1.5;\"\u003e (Unwrapped): 3.96 \u003cbr\u003e\u003c\/span\u003e\u003cspan style=\"color: #000000;\"\u003e\u003cstrong\u003eELN:\u003c\/strong\u003e\u003c\/span\u003e\u003cspan style=\"line-height: 1.5;\"\u003e 4 \u003cbr\u003e\u003c\/span\u003e\u003cspan style=\"color: #000000;\"\u003e\u003cstrong\u003eOptimal Grain Window:\u003c\/strong\u003e\u003c\/span\u003e\u003cspan style=\"line-height: 1.5;\"\u003e 120 - 135 Grains \u003cbr\u003e\u003c\/span\u003e\u003cspan style=\"color: #000000;\"\u003e\u003cstrong\u003eEffective Line Range:\u003c\/strong\u003e\u003c\/span\u003e\u003cspan style=\"line-height: 1.5;\"\u003e AFTMA 4 \/ 5 \u003cbr\u003e\u003c\/span\u003e\u003cspan style=\"color: #000000;\"\u003e\u003cstrong\u003eAction:\u003c\/strong\u003e \u003c\/span\u003e\u003cspan style=\"line-height: 1.5;\"\u003eProgressive \/ Mid Flex \/ Medium  \u003cbr\u003e\u003c\/span\u003e\u003cspan style=\"color: #000000;\"\u003e\u003cstrong\u003eTaper:\u003c\/strong\u003e\u003c\/span\u003e\u003cspan style=\"line-height: 1.5;\"\u003e Fast \u003cbr\u003e\u003c\/span\u003e\u003cspan style=\"color: #000000;\"\u003e\u003cstrong\u003eBlank Weight:\u003c\/strong\u003e\u003c\/span\u003e\u003cspan style=\"line-height: 1.5;\"\u003e 46g \u003cbr\u003e\u003c\/span\u003e\u003cstrong style=\"line-height: 1.5;\"\u003eButt Diameter:\u003c\/strong\u003e\u003cspan style=\"line-height: 1.5;\"\u003e 9.6mm (Aprox)\u003c\/span\u003e\u003c\/p\u003e\n\u003chr style=\"line-height: 1.5;\"\u003e\n\u003ch5\u003e\n\u003cimg src=\"\/\/cdn.shopify.com\/s\/files\/1\/0120\/5852\/files\/Epic-Fiberglass-Fly-Rod-Specifications_4_large.png?4328\" alt=\"Epic Fiberglass Fly Rod Blank\"\u003e\u003cbr\u003e\u003cimg src=\"\/\/cdn.shopify.com\/s\/files\/1\/0120\/5852\/files\/476-Strenght_2_large.png?4361\" alt=\"Epic Fiberglass fly rods\"\u003e\u003cbr\u003e\u003cimg src=\"\/\/cdn.shopify.com\/s\/files\/1\/0120\/5852\/files\/S-Glass_3_large.png?4330\" alt=\"Epic Fiberglass Fly Rod Blank\"\u003e\n\u003c\/h5\u003e","published_at":"2013-07-10T12:24:00+12:00","created_at":"2016-02-26T15:02:17+13:00","vendor":"SWIFT","type":"Fly Rod Blank","tags":[],"price":52500,"price_min":52500,"price_max":59500,"available":true,"price_varies":true,"compare_at_price":44900,"compare_at_price_min":44900,"compare_at_price_max":54900,"compare_at_price_varies":true,"variants":[{"id":15278905092,"title":"Blank Only","option1":"Blank Only","option2":null,"option3":null,"sku":"476B_PACKLIGHT Blank ONLY","requires_shipping":true,"taxable":true,"featured_image":{"id":10561429316,"product_id":4468485508,"position":5,"created_at":"2016-02-26T15:32:18+13:00","updated_at":"2016-02-26T15:42:33+13:00","width":800,"height":533,"src":"https:\/\/cdn.shopify.com\/s\/files\/1\/0120\/5852\/products\/Packlight-Blank-6.jpg?v=1456454553","variant_ids":[15278905092]},"available":true,"name":"Packlight 476 Fly Rod Blank - Blank Only","public_title":"Blank Only","options":["Blank Only"],"price":52500,"weight":3000,"compare_at_price":44900,"inventory_quantity":18,"inventory_management":"shopify","inventory_policy":"continue","barcode":"60105092"},{"id":16474886340,"title":"Blank Rod Sock And Tube","option1":"Blank Rod Sock And Tube","option2":null,"option3":null,"sku":"476B_PACKLIGHT PACKAGE-2","requires_shipping":true,"taxable":true,"featured_image":{"id":10561426948,"product_id":4468485508,"position":1,"created_at":"2016-02-26T15:32:10+13:00","updated_at":"2016-02-26T15:42:33+13:00","width":800,"height":533,"src":"https:\/\/cdn.shopify.com\/s\/files\/1\/0120\/5852\/products\/Packlight-Blank-1.jpg?v=1456454553","variant_ids":[16474886340]},"available":true,"name":"Packlight 476 Fly Rod Blank - Blank Rod Sock And Tube","public_title":"Blank Rod Sock And Tube","options":["Blank Rod Sock And Tube"],"price":59500,"weight":3000,"compare_at_price":54900,"inventory_quantity":18,"inventory_management":"shopify","inventory_policy":"continue","barcode":"56086340"}],"images":["\/\/cdn.shopify.com\/s\/files\/1\/0120\/5852\/products\/Packlight-Blank-1.jpg?v=1456454553","\/\/cdn.shopify.com\/s\/files\/1\/0120\/5852\/products\/Packlight-Blank-2-lg.jpg?v=1456454553","\/\/cdn.shopify.com\/s\/files\/1\/0120\/5852\/products\/Packlight-Blank-3.jpg?v=1456454553","\/\/cdn.shopify.com\/s\/files\/1\/0120\/5852\/products\/Packlight-Blank-4.jpg?v=1456454553","\/\/cdn.shopify.com\/s\/files\/1\/0120\/5852\/products\/Packlight-Blank-6.jpg?v=1456454553","\/\/cdn.shopify.com\/s\/files\/1\/0120\/5852\/products\/Packlight-16.jpg?v=1456454553","\/\/cdn.shopify.com\/s\/files\/1\/0120\/5852\/products\/Packlight-1.jpg?v=1456454553"],"featured_image":"\/\/cdn.shopify.com\/s\/files\/1\/0120\/5852\/products\/Packlight-Blank-1.jpg?v=1456454553","options":["Variation"],"content":"\u003ch2\u003ePacklight - the super versatile 5 piece glass travel blank.\u003c\/h2\u003e\n\u003cp\u003eHead for the hills, answer the call and pack in your favorite adventure stick.\u003c\/p\u003e\n\u003cp\u003eWe've taken our amazing 476 blank and reconfigured it as a 5 piece travel rod, now small and compact enough to easily slip down the side of a backpack or rucksack.\u003c\/p\u003e\n\u003cul\u003e\n\u003cli\u003e\n\u003cp\u003e\u003cspan style=\"line-height: 1.4;\"\u003eIncredibly light. A mere 46 grams (1.62 ounces)\u003c\/span\u003e\u003c\/p\u003e\n\u003c\/li\u003e\n\u003cli\u003e\n\u003cp\u003e\u003cspan style=\"line-height: 1.4;\"\u003eIncredibly \u003c\/span\u003e\u003cspan style=\"line-height: 21px;\"\u003econvenient.\u003c\/span\u003e\u003cspan style=\"line-height: 1.4;\"\u003e Only 495 mm long (19.5 inches)\u003c\/span\u003e\u003c\/p\u003e\n\u003c\/li\u003e\n\u003cli\u003e\n\u003cp\u003e\u003cspan style=\"line-height: 1.4;\"\u003eIncredibly tough. Made from fully unidirectional S2 Fastglass\u003c\/span\u003e\u003c\/p\u003e\n\u003c\/li\u003e\n\u003c\/ul\u003e\n\u003cp\u003eLooking for a shorter blank to fish in tight confined creeks but still want the backbone and pulling power of a much larger rod? - the 476 is the deal. The 476 boxes way above it's weight, easily horsing out fish in the 2 - 3 kg range (that's 3 to 6 lbs) - and yes, we've got plenty of pics to prove it.\u003c\/p\u003e\n\u003cp style=\"line-height: 1.5;\"\u003eThe Epic™ 476 Packlite is crafted from Unidirectional S2 Glass, this material is stiffer and stronger than e-glass or standard s-glass. The 476 Packlight is a powerful and extremely accurate fly rod blank.\u003c\/p\u003e\n\u003cp style=\"line-height: 1.5;\"\u003e*The Packlight package includes our world famous glass rod tube and our matching flip-fit rod sock.\u003c\/p\u003e\n\u003cp style=\"line-height: 1.5;\"\u003e\u003cem\u003eIncludes Epic Packlight decals to suit your build\u003c\/em\u003e\u003c\/p\u003e\n\u003cp style=\"line-height: 1.5;\"\u003e\u003cstrong\u003eColour:\u003c\/strong\u003e Tangerine Dream\u003cbr\u003e\u003cstrong\u003eRecommended Line Weight: \u003c\/strong\u003eAFTMA #4 \u003cbr\u003e\u003cstrong\u003eLength:\u003c\/strong\u003e 7'6\"\u003cbr\u003e\u003cstrong\u003ePieces:\u003c\/strong\u003e 5\u003c\/p\u003e\n\u003ch6\u003eSpecifications\u003c\/h6\u003e\n\u003cp\u003e\u003cspan style=\"color: #000000;\"\u003e\u003cstrong\u003eRecommended line weight\u003c\/strong\u003e: \u003c\/span\u003eAFTMA #4 \u003cbr\u003e\u003cspan style=\"color: #000000;\"\u003e\u003cstrong\u003eLength:\u003c\/strong\u003e\u003c\/span\u003e\u003cspan style=\"line-height: 1.5;\"\u003e 7'6\" \u003cbr\u003e\u003c\/span\u003e\u003cspan style=\"color: #000000;\"\u003e\u003cstrong\u003ePieces:\u003c\/strong\u003e\u003c\/span\u003e\u003cspan style=\"line-height: 1.5;\"\u003e  5\u003cbr\u003e\u003c\/span\u003e\u003cspan style=\"color: #000000;\"\u003e\u003cstrong\u003eTotal length:\u003c\/strong\u003e\u003c\/span\u003e\u003cspan style=\"line-height: 1.5;\"\u003e 2,265mm \u003cbr\u003e\u003c\/span\u003e\u003cspan style=\"color: #000000;\"\u003e\u003cstrong\u003eERN:\u003c\/strong\u003e\u003c\/span\u003e\u003cspan style=\"line-height: 1.5;\"\u003e (Unwrapped): 3.96 \u003cbr\u003e\u003c\/span\u003e\u003cspan style=\"color: #000000;\"\u003e\u003cstrong\u003eELN:\u003c\/strong\u003e\u003c\/span\u003e\u003cspan style=\"line-height: 1.5;\"\u003e 4 \u003cbr\u003e\u003c\/span\u003e\u003cspan style=\"color: #000000;\"\u003e\u003cstrong\u003eOptimal Grain Window:\u003c\/strong\u003e\u003c\/span\u003e\u003cspan style=\"line-height: 1.5;\"\u003e 120 - 135 Grains \u003cbr\u003e\u003c\/span\u003e\u003cspan style=\"color: #000000;\"\u003e\u003cstrong\u003eEffective Line Range:\u003c\/strong\u003e\u003c\/span\u003e\u003cspan style=\"line-height: 1.5;\"\u003e AFTMA 4 \/ 5 \u003cbr\u003e\u003c\/span\u003e\u003cspan style=\"color: #000000;\"\u003e\u003cstrong\u003eAction:\u003c\/strong\u003e \u003c\/span\u003e\u003cspan style=\"line-height: 1.5;\"\u003eProgressive \/ Mid Flex \/ Medium  \u003cbr\u003e\u003c\/span\u003e\u003cspan style=\"color: #000000;\"\u003e\u003cstrong\u003eTaper:\u003c\/strong\u003e\u003c\/span\u003e\u003cspan style=\"line-height: 1.5;\"\u003e Fast \u003cbr\u003e\u003c\/span\u003e\u003cspan style=\"color: #000000;\"\u003e\u003cstrong\u003eBlank Weight:\u003c\/strong\u003e\u003c\/span\u003e\u003cspan style=\"line-height: 1.5;\"\u003e 46g \u003cbr\u003e\u003c\/span\u003e\u003cstrong style=\"line-height: 1.5;\"\u003eButt Diameter:\u003c\/strong\u003e\u003cspan style=\"line-height: 1.5;\"\u003e 9.6mm (Aprox)\u003c\/span\u003e\u003c\/p\u003e\n\u003chr style=\"line-height: 1.5;\"\u003e\n\u003ch5\u003e\n\u003cimg src=\"\/\/cdn.shopify.com\/s\/files\/1\/0120\/5852\/files\/Epic-Fiberglass-Fly-Rod-Specifications_4_large.png?4328\" alt=\"Epic Fiberglass Fly Rod Blank\"\u003e\u003cbr\u003e\u003cimg src=\"\/\/cdn.shopify.com\/s\/files\/1\/0120\/5852\/files\/476-Strenght_2_large.png?4361\" alt=\"Epic Fiberglass fly rods\"\u003e\u003cbr\u003e\u003cimg src=\"\/\/cdn.shopify.com\/s\/files\/1\/0120\/5852\/files\/S-Glass_3_large.png?4330\" alt=\"Epic Fiberglass Fly Rod Blank\"\u003e\n\u003c\/h5\u003e"}
Packlight 476 Fly Rod Blank
Packlight 476 Fly Rod Blank
Packlight - the super versatile 5 piece glass travel blank.
Head for the hills, answer the call and pack in your favorite adventure stick.
We've taken our amazing 476 blank and reconfigured it as a 5 piece travel rod, now small and compact enough to easily slip down the side of a backpack or rucksack.
Incredibly light. A mere 46 grams (1.62 ounces)

Incredibly convenient. Only 495 mm long (19.5 inches)

Incredibly tough. Made from fully unidirectional S2 Fastglass
Looking for a shorter blank to fish in tight confined creeks but still want the backbone and pulling power of a much larger rod? - the 476 is the deal. The 476 boxes way above it's weight, easily horsing out fish in the 2 - 3 kg range (that's 3 to 6 lbs) - and yes, we've got plenty of pics to prove it.
The Epic™ 476 Packlite is crafted from Unidirectional S2 Glass, this material is stiffer and stronger than e-glass or standard s-glass. The 476 Packlight is a powerful and extremely accurate fly rod blank.
*The Packlight package includes our world famous glass rod tube and our matching flip-fit rod sock.
Includes Epic Packlight decals to suit your build
Colour: Tangerine Dream
Recommended Line Weight: AFTMA #4 
Length: 7'6"
Pieces: 5
Recommended line weight: AFTMA #4 
Length: 7'6" 
Pieces:  5
Total length: 2,265mm 
ERN: (Unwrapped): 3.96 
ELN: 4 
Optimal Grain Window: 120 - 135 Grains 
Effective Line Range: AFTMA 4 / 5 
Action: Progressive / Mid Flex / Medium  
Taper: Fast 
Blank Weight: 46g 
Butt Diameter: 9.6mm (Aprox)
---



Customer Reviews
Reviews (5)
Questions (0)
5 star
Packlight 476 Fly Rod Blank
5 star
Packlight 476 Fly Rod Blank
476-5 reveiw
First of the modern fibreglass rods for me - very smooth - exceeds expectations
Sweet As
The Packlight 476 - now this is a really fun rod. Its incredibly accurate, roll casts beautifully, which was a surprise, and it fits into my carry on bag. Tried it out on some pan sized bream in the salt and it was a hoot. Reckon it will be perfect for carefully placed shots at back eddy cruisers in New Zealand. Another cracker of a rod from Carl and the team at Epic.
Pack light 476 build
Hi to you all at epic. Quick up date on the pack light blank you supplied. It was a very nice blank to build a fine fly rod on. As it was built at the request of a customer I have not put a line on it yet. I can tell you that with the customers reel in place, it balances perfectly in the hand. I also own a 3 piece 476 that was my first glass build and after comparing the two rod in a wobble test it will a very nice packable fishing tool. When my customer picks it up and we head out on the water to test it I will get him to give you a full report until then keep up the good work Regards Mick @ vale Creek Rod Works PS I love the colour
- THE EPIC PROMISE -

We guarantee everything we make.
If one of our products fails to meet your expectations either at the time you receive it, or over the next 30 days, contact us and we'll arrange a total refund and return at our cost, anywhere in the world.

The Epic Lifetime Warranty.
Every new Epic fly rod or blank that we produce is covered by our lifetime, original owner warranty. This warranty covers failure due to defects in material or workmanship of our product. Any Epic fly rod built by the Swift Fly Fishing company that fails due to misuse, negligence or normal wear-and-tear will be repaired or replaced at a nominal cost plus shipping at our discretion.
Full details of our warrenty, guarantee, replacment and returns policy can be found here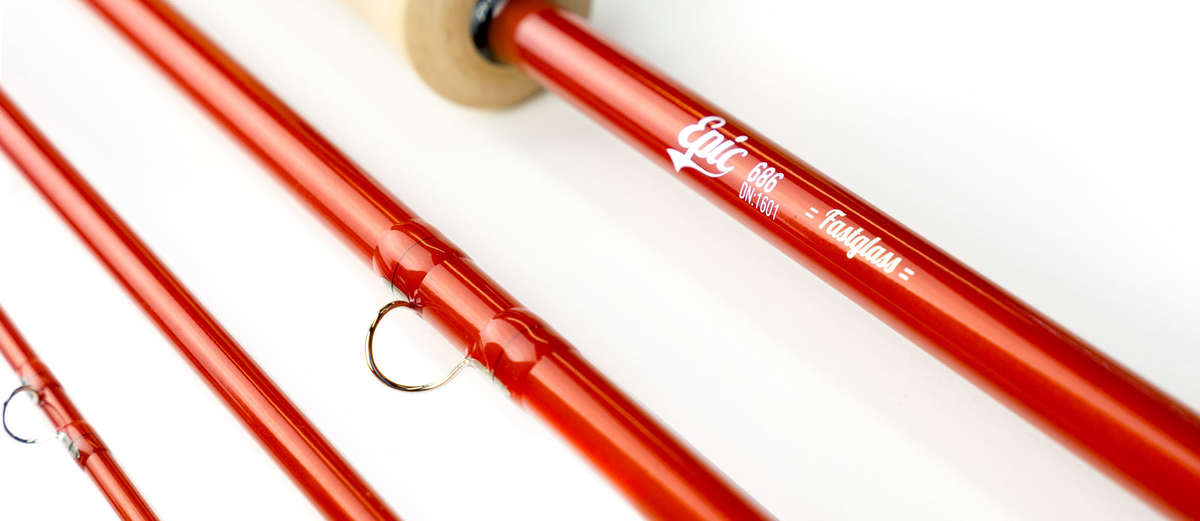 Epic® FastGlass®
Smooth. Powerful. Tough.
Epic® fly rod blanks are made to exacting standards using a proprietary S2-glass composite. This material features a fully unidirectional fibre layup which aligns fibers longitudinally along the blank. The result is an incredibly strong, light and powerful tube with a crisp, precise response. This recipe, rolled to our fast tapers combine silky smooth easy loading with trophy pulling power. We call it FastGlass®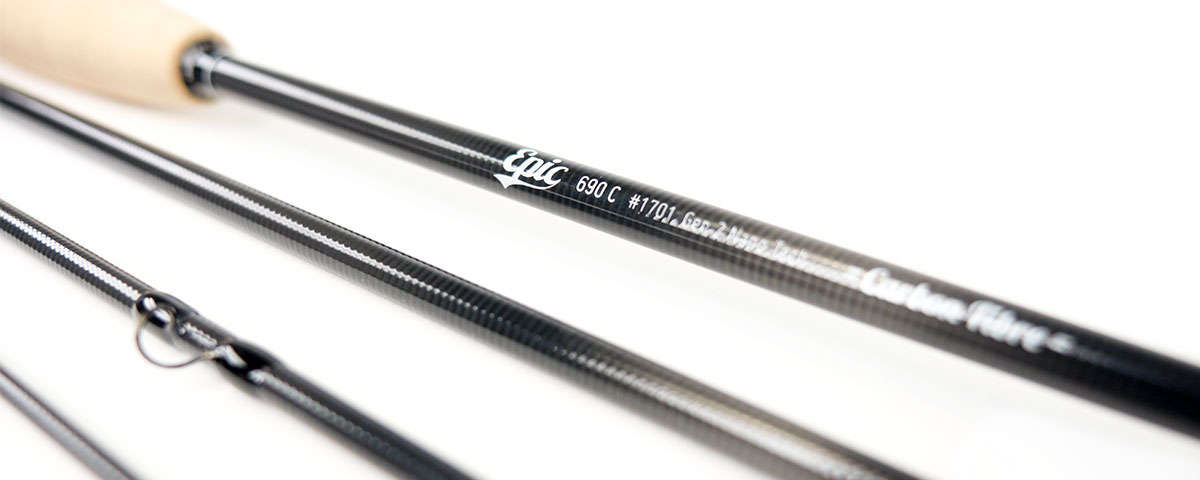 Epic® C Series Carbon Fibre,
As good as it gets.
Epic C series are a state of the art carbon fibre (Graphite) fly rod blank. The most sophisticated composite materials and production processes are used in their construction. Silica Nano resin, full Helical construction, multi modulus, all unidirectional carbon fibre and internally reenforced ferrule system. This is the most sophisticated fly rod blank available.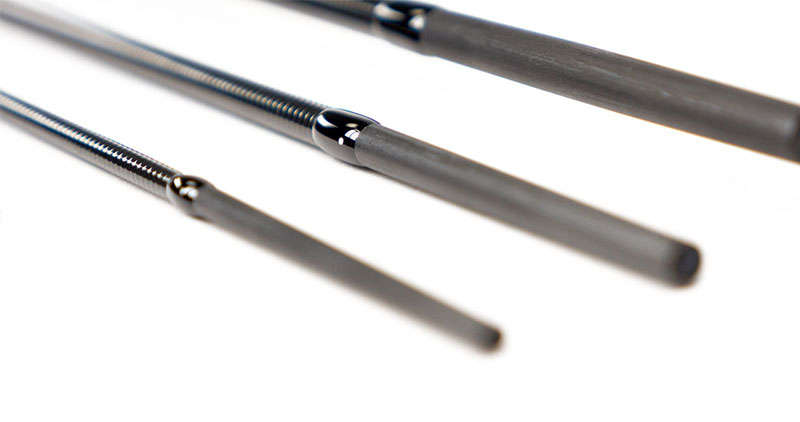 The Epic Ground Ferrule System™
Each male ferrule is hand ground to perfectly fit the female section of the blank.
A secure positive fit eliminates knocks
Smoother energy transfer. Eliminates flat spots
Non slip - reduces twisting due to torque
Internally reinforced ferrules - eliminates ferrule fracture
Durable & scratch resistant
Gets better with use
Precise fit, sections are interchangeable, in the case of tip breakages replacement sections can be sent out immediately. No need to return the blank for a fit.
What the experts say
The most popular GLASS streamer rod on the market.
"I really believe the EPIC 686 is by far the most popular GLASS streamer rod on the market. More often than not, I get requests for the 686 and most of the time in Salsa. Carl has created a wonderful, and powerful taper and folks love them!"
Shane Gray. Graywolf Rods
"I will only touch on this for a second because everyone keeps hearing how phenomenal the 686 is. This is a phenomenal blank.
The beauty is in the fact that the rod will lay out ten feet of line with the delicacy of a full flex cane, but when called upon fire 95' of line into a stiff breeze. It does all of this with a great deal of feel and composure that most rods will never achieve.
It is quite possibly one of the best 6wts on the market glass, graph, or grass."
Zeb Tonkavich. Snowman Custom Rod Works
"the Epic 686 is (f#$%'ing) magic in my hands. This fly rod is responsive, quick to load, and a powerhouse that lays out very long accurate casts with relative ease."
Cameron Mortenson. The Fiberglass Manifesto