{"id":362122529,"title":"476 Ready to Wrap Kit","handle":"476-ready-to-wrap-kit","description":"\u003ch2\u003eEpic 476 Ready to Wrap Fly Rod Kit \u003c\/h2\u003e\n\u003cp\u003e\u003cstrong\u003e\u003cspan style=\"color: #666666;\"\u003eThe very best componentry available, all designed to fit together \u003c\/span\u003eseamlessly. \u003cspan style=\"color: #666666;\"\u003eNo Reaming, No Drilling, No Sanding - \u003cspan style=\"color: #000000;\"\u003eall Epic.\u003c\/span\u003e\u003c\/span\u003e\u003c\/strong\u003e\u003c\/p\u003e\n\u003cp\u003eLooking for a shorter blank to fish in tight confined creeks but still want the backbone and pulling power of a much larger rod? - the 476 is the deal.\u003c\/p\u003e\n\u003cp\u003eBuilding a great custom fly rod is no mean feat, selecting the correct matching components can be an intimidating exercise alone. Then there's those wraps, the cork and glue...\u003c\/p\u003e\n\u003cp\u003eOur Epic Ready to Wrap Rod Kit \u003cstrong\u003emakes life easy\u003c\/strong\u003e - we've done much of the hard work for you. The kit contains all the components, glues, rod finish and instructions you'll need to build your own unique custom Epic fly rod.\u003c\/p\u003e\n\u003cp\u003eThe components in our Epic Ready to Wrap Rod Kit have all been \u003cb\u003especifically\u003c\/b\u003e designed to work together. Our premium grade cork grip features a tapered bore to fit your chosen blank. Each cork grip is ported to receive our Epic reel seat perfectly.\u003c\/p\u003e\n\u003cp\u003e*Kit contents may vary according to options and model chosen\u003c\/p\u003e\n\u003cp\u003e\u003cstrong\u003eEach Kit contains:\u003c\/strong\u003e\u003c\/p\u003e\n\u003cul style=\"line-height: 1.5;\"\u003e\n\u003cli\u003eEpic 476 Blank\u003c\/li\u003e\n\u003cli\u003eEpic Katana hand ferruled translucent fibreglass fly rod tube \u003c\/li\u003e\n\u003cli\u003ePremium hand sewn rod sock\u003c\/li\u003e\n\u003cli\u003eYour choice of finest quality Portuguese cork grip *configurable\u003c\/li\u003e\n\u003cli\u003eEpic reel seat in either black or Titanium finish.\u003c\/li\u003e\n\u003cli\u003eGuide set (Snake brand Universal guides USA)\u003c\/li\u003e\n\u003cli\u003eGlue kit (preloaded syringes, grip \u0026amp; tip epoxy, brushes, mixing cups \u0026amp; full instructions)\u003c\/li\u003e\n\u003cli\u003eChina-graph marking pencil\u003c\/li\u003e\n\u003cli\u003eRod stands\u003c\/li\u003e\n\u003cli\u003eComprehensive 42 page build book with step by step instructions\u003c\/li\u003e\n\u003cli\u003eStickers \/ Decals\u003c\/li\u003e\n\u003cli\u003e\n\u003cstrong\u003e*Japanese Silk threads\u003c\/strong\u003e. Each kit includes natural 212 silk (we include instructions on how to use this to make perfectly clear ghost wraps) and black thread for trims. These default threads can be substiuted for other stock colors on request. \u003ca href=\"http:\/\/swiftflyfishing.com\/collections\/rod-building-components\/products\/silk-wrapping-thread\" title=\"Stock thread colours\"\u003eView Stock Thread Colours\u003c\/a\u003e\n\u003c\/li\u003e\n\u003c\/ul\u003e\n\u003cstrong style=\"line-height: 1.5;\"\u003e\u003cstrong style=\"line-height: 1.5;\"\u003eRecommended line weight:\u003c\/strong\u003e\u003cspan style=\"line-height: 1.5;\"\u003e AFTMA #4 \u003c\/span\u003e\u003c\/strong\u003e\u003cbr\u003e\n\u003cp\u003e\u003cstrong\u003eLength:\u003c\/strong\u003e 7'6\"\u003cbr\u003e\u003cstrong\u003ePieces:\u003c\/strong\u003e 4\u003c\/p\u003e\n\u003ch6\u003eSpecifications\u003c\/h6\u003e\n\u003cp\u003e\u003cspan style=\"color: #000000;\"\u003e\u003cstrong\u003eRecommended line weight\u003c\/strong\u003e:\u003c\/span\u003e\u003cspan style=\"line-height: 1.5;\"\u003e AFTMA #4 \u003cbr\u003e\u003c\/span\u003e\u003cspan style=\"color: #000000;\"\u003e\u003cstrong\u003eLength:\u003c\/strong\u003e\u003c\/span\u003e\u003cspan style=\"line-height: 1.5;\"\u003e 7'6\"\u003cbr\u003e\u003c\/span\u003e\u003cspan style=\"color: #000000;\"\u003e\u003cstrong\u003ePieces:\u003c\/strong\u003e\u003c\/span\u003e\u003cspan style=\"line-height: 1.5;\"\u003e 4  \u003cbr\u003e\u003c\/span\u003e\u003cspan style=\"color: #000000;\"\u003e\u003cstrong\u003eTotal length:\u003c\/strong\u003e\u003c\/span\u003e\u003cspan style=\"line-height: 1.5;\"\u003e 2,265mm\u003cbr\u003e\u003c\/span\u003e\u003cspan style=\"color: #000000;\"\u003e\u003cstrong\u003eERN:\u003c\/strong\u003e\u003c\/span\u003e\u003cspan style=\"line-height: 1.5;\"\u003e (Unwrapped): 3.96\u003cbr\u003e\u003c\/span\u003e\u003cspan style=\"color: #000000;\"\u003e\u003cstrong\u003eELN:\u003c\/strong\u003e\u003c\/span\u003e\u003cspan style=\"line-height: 1.5;\"\u003e 4\u003cbr\u003e\u003c\/span\u003e\u003cspan style=\"color: #000000;\"\u003e\u003cstrong\u003eOptimal Grain Window:\u003c\/strong\u003e\u003c\/span\u003e\u003cspan style=\"line-height: 1.5;\"\u003e 120 - 135 Grains\u003cbr\u003e\u003c\/span\u003e\u003cspan style=\"color: #000000;\"\u003e\u003cstrong\u003eEffective Line Range:\u003c\/strong\u003e\u003c\/span\u003e\u003cspan style=\"line-height: 1.5;\"\u003e AFTMA 4 \/ 5\u003cbr\u003e\u003c\/span\u003e\u003cspan style=\"color: #000000;\"\u003e\u003cstrong\u003eAction:\u003c\/strong\u003e \u003c\/span\u003e\u003cspan style=\"line-height: 1.5;\"\u003eProgressive \/ Mid Flex \/ Medium  \u003cbr\u003e\u003c\/span\u003e\u003cspan style=\"color: #000000;\"\u003e\u003cstrong\u003eTaper:\u003c\/strong\u003e\u003c\/span\u003e\u003cspan style=\"line-height: 1.5;\"\u003e Fast\u003cbr\u003e\u003c\/span\u003e\u003cspan style=\"color: #000000;\"\u003e\u003cstrong\u003eBlank Weight:\u003c\/strong\u003e\u003c\/span\u003e\u003cspan style=\"line-height: 1.5;\"\u003e 47g\u003c\/span\u003e\u003c\/p\u003e\n\u003chr style=\"line-height: 1.5;\"\u003e\n\u003ch5\u003e\n\u003cimg src=\"\/\/cdn.shopify.com\/s\/files\/1\/0120\/5852\/files\/Epic-Fiberglass-Fly-Rod-Specifications_4_large.png?4328\" alt=\"Epic Fiberglass Fly Rod Blank\"\u003e\u003cbr\u003e\u003cimg src=\"\/\/cdn.shopify.com\/s\/files\/1\/0120\/5852\/files\/476-Strenght_2_large.png?4361\" alt=\"Epic Fiberglass fly rods\"\u003e\u003cbr\u003e\u003cimg src=\"\/\/cdn.shopify.com\/s\/files\/1\/0120\/5852\/files\/S-Glass_3_large.png?4330\" alt=\"Epic Fiberglass Fly Rod Blank\"\u003e\n\u003c\/h5\u003e\n\u003cp\u003e\u003cspan face=\"Calibri\"\u003e \u003c\/span\u003e\u003c\/p\u003e\n\u003cp\u003e\u003cstrong\u003e \u003c\/strong\u003e\u003c\/p\u003e\n\u003cul class=\"tabs-content\"\u003e\u003c\/ul\u003e","published_at":"2016-02-13T12:52:00+13:00","created_at":"2014-09-03T11:10:00+12:00","vendor":"SWIFT","type":"Rod Kit","tags":["Fly Rod Kit"],"price":59500,"price_min":59500,"price_max":59500,"available":true,"price_varies":false,"compare_at_price":null,"compare_at_price_min":0,"compare_at_price_max":0,"compare_at_price_varies":false,"variants":[{"id":2986108100,"title":"Amber \/ Black \/ Western","option1":"Amber","option2":"Black","option3":"Western","sku":"476_Rod KitABW","requires_shipping":true,"taxable":true,"featured_image":{"id":14626469956,"product_id":362122529,"position":14,"created_at":"2016-08-03T11:09:22+12:00","updated_at":"2017-07-04T09:11:24+12:00","width":2000,"height":500,"src":"https:\/\/cdn.shopify.com\/s\/files\/1\/0120\/5852\/products\/BWA.jpg?v=1499116284","variant_ids":[2986108100]},"available":false,"name":"476 Ready to Wrap Kit - Amber \/ Black \/ Western","public_title":"Amber \/ Black \/ Western","options":["Amber","Black","Western"],"price":59500,"weight":5000,"compare_at_price":null,"inventory_quantity":0,"inventory_management":"shopify","inventory_policy":"deny","barcode":"67308100"},{"id":21948864196,"title":"Amber \/ Silver \/ Western","option1":"Amber","option2":"Silver","option3":"Western","sku":"476_Rod KitASW","requires_shipping":true,"taxable":true,"featured_image":{"id":14627636036,"product_id":362122529,"position":15,"created_at":"2016-08-03T11:57:18+12:00","updated_at":"2017-07-04T09:11:24+12:00","width":2000,"height":500,"src":"https:\/\/cdn.shopify.com\/s\/files\/1\/0120\/5852\/products\/ASW.jpg?v=1499116284","variant_ids":[21948864196]},"available":false,"name":"476 Ready to Wrap Kit - Amber \/ Silver \/ Western","public_title":"Amber \/ Silver \/ Western","options":["Amber","Silver","Western"],"price":59500,"weight":5000,"compare_at_price":null,"inventory_quantity":0,"inventory_management":"shopify","inventory_policy":"deny","barcode":"30064196"},{"id":4124397700,"title":"Salsa \/ Black \/ Western","option1":"Salsa","option2":"Black","option3":"Western","sku":"476_Rod KitSBW","requires_shipping":true,"taxable":true,"featured_image":{"id":14627705220,"product_id":362122529,"position":16,"created_at":"2016-08-03T12:00:11+12:00","updated_at":"2017-07-04T09:11:24+12:00","width":2000,"height":500,"src":"https:\/\/cdn.shopify.com\/s\/files\/1\/0120\/5852\/products\/SBW.jpg?v=1499116284","variant_ids":[4124397700]},"available":true,"name":"476 Ready to Wrap Kit - Salsa \/ Black \/ Western","public_title":"Salsa \/ Black \/ Western","options":["Salsa","Black","Western"],"price":59500,"weight":5000,"compare_at_price":null,"inventory_quantity":3,"inventory_management":"shopify","inventory_policy":"deny","barcode":"5597700"},{"id":4124461124,"title":"Salsa \/ Silver \/ Western","option1":"Salsa","option2":"Silver","option3":"Western","sku":"476_Rod KitSSW","requires_shipping":true,"taxable":true,"featured_image":{"id":14627721924,"product_id":362122529,"position":17,"created_at":"2016-08-03T12:00:59+12:00","updated_at":"2017-07-04T09:11:24+12:00","width":2000,"height":500,"src":"https:\/\/cdn.shopify.com\/s\/files\/1\/0120\/5852\/products\/SSW.jpg?v=1499116284","variant_ids":[4124461124]},"available":true,"name":"476 Ready to Wrap Kit - Salsa \/ Silver \/ Western","public_title":"Salsa \/ Silver \/ Western","options":["Salsa","Silver","Western"],"price":59500,"weight":5000,"compare_at_price":null,"inventory_quantity":3,"inventory_management":"shopify","inventory_policy":"deny","barcode":"5661124"},{"id":4124397764,"title":"Olive \/ Black \/ Western","option1":"Olive","option2":"Black","option3":"Western","sku":"476_Rod KitOBW","requires_shipping":true,"taxable":true,"featured_image":{"id":14627982788,"product_id":362122529,"position":25,"created_at":"2016-08-03T12:11:12+12:00","updated_at":"2017-07-04T09:11:24+12:00","width":2000,"height":500,"src":"https:\/\/cdn.shopify.com\/s\/files\/1\/0120\/5852\/products\/OBW.jpg?v=1499116284","variant_ids":[4124397764]},"available":true,"name":"476 Ready to Wrap Kit - Olive \/ Black \/ Western","public_title":"Olive \/ Black \/ Western","options":["Olive","Black","Western"],"price":59500,"weight":5000,"compare_at_price":null,"inventory_quantity":2,"inventory_management":"shopify","inventory_policy":"deny","barcode":"5597764"},{"id":4124461188,"title":"Olive \/ Silver \/ Western","option1":"Olive","option2":"Silver","option3":"Western","sku":"476_Rod KitOSW","requires_shipping":true,"taxable":true,"featured_image":{"id":14627746756,"product_id":362122529,"position":18,"created_at":"2016-08-03T12:02:03+12:00","updated_at":"2017-07-04T09:11:24+12:00","width":2000,"height":500,"src":"https:\/\/cdn.shopify.com\/s\/files\/1\/0120\/5852\/products\/OSW.jpg?v=1499116284","variant_ids":[4124461188]},"available":true,"name":"476 Ready to Wrap Kit - Olive \/ Silver \/ Western","public_title":"Olive \/ Silver \/ Western","options":["Olive","Silver","Western"],"price":59500,"weight":5000,"compare_at_price":null,"inventory_quantity":2,"inventory_management":"shopify","inventory_policy":"deny","barcode":"5661188"},{"id":4124397828,"title":"So Blue \/ Black \/ Western","option1":"So Blue","option2":"Black","option3":"Western","sku":"476_Rod KitSBBW","requires_shipping":true,"taxable":true,"featured_image":{"id":14627767044,"product_id":362122529,"position":19,"created_at":"2016-08-03T12:02:51+12:00","updated_at":"2017-07-04T09:11:24+12:00","width":2000,"height":500,"src":"https:\/\/cdn.shopify.com\/s\/files\/1\/0120\/5852\/products\/BBW.jpg?v=1499116284","variant_ids":[4124397828]},"available":true,"name":"476 Ready to Wrap Kit - So Blue \/ Black \/ Western","public_title":"So Blue \/ Black \/ Western","options":["So Blue","Black","Western"],"price":59500,"weight":5000,"compare_at_price":null,"inventory_quantity":2,"inventory_management":"shopify","inventory_policy":"deny","barcode":"5597828"},{"id":4124461252,"title":"So Blue \/ Silver \/ Western","option1":"So Blue","option2":"Silver","option3":"Western","sku":"476_Rod KitSBSW","requires_shipping":true,"taxable":true,"featured_image":{"id":14627782084,"product_id":362122529,"position":20,"created_at":"2016-08-03T12:03:32+12:00","updated_at":"2017-07-04T09:11:24+12:00","width":2000,"height":500,"src":"https:\/\/cdn.shopify.com\/s\/files\/1\/0120\/5852\/products\/BSW.jpg?v=1499116284","variant_ids":[4124461252]},"available":true,"name":"476 Ready to Wrap Kit - So Blue \/ Silver \/ Western","public_title":"So Blue \/ Silver \/ Western","options":["So Blue","Silver","Western"],"price":59500,"weight":5000,"compare_at_price":null,"inventory_quantity":2,"inventory_management":"shopify","inventory_policy":"deny","barcode":"5661252"},{"id":4124397892,"title":"Nude \/ Black \/ Western","option1":"Nude","option2":"Black","option3":"Western","sku":"476_Rod KitNBW","requires_shipping":true,"taxable":true,"featured_image":{"id":14627801732,"product_id":362122529,"position":21,"created_at":"2016-08-03T12:04:19+12:00","updated_at":"2017-07-04T09:11:24+12:00","width":2000,"height":500,"src":"https:\/\/cdn.shopify.com\/s\/files\/1\/0120\/5852\/products\/NBW.jpg?v=1499116284","variant_ids":[4124397892]},"available":true,"name":"476 Ready to Wrap Kit - Nude \/ Black \/ Western","public_title":"Nude \/ Black \/ Western","options":["Nude","Black","Western"],"price":59500,"weight":5000,"compare_at_price":null,"inventory_quantity":1,"inventory_management":"shopify","inventory_policy":"deny","barcode":"5597892"},{"id":4124461316,"title":"Nude \/ Silver \/ Western","option1":"Nude","option2":"Silver","option3":"Western","sku":"476_Rod KitNSW","requires_shipping":true,"taxable":true,"featured_image":{"id":14627817796,"product_id":362122529,"position":22,"created_at":"2016-08-03T12:05:00+12:00","updated_at":"2017-07-04T09:11:24+12:00","width":2000,"height":500,"src":"https:\/\/cdn.shopify.com\/s\/files\/1\/0120\/5852\/products\/NSW.jpg?v=1499116284","variant_ids":[4124461316]},"available":true,"name":"476 Ready to Wrap Kit - Nude \/ Silver \/ Western","public_title":"Nude \/ Silver \/ Western","options":["Nude","Silver","Western"],"price":59500,"weight":5000,"compare_at_price":null,"inventory_quantity":1,"inventory_management":"shopify","inventory_policy":"deny","barcode":"5661316"},{"id":4124397956,"title":"Mocha \/ Black \/ Western","option1":"Mocha","option2":"Black","option3":"Western","sku":"476_Rod KitMBW","requires_shipping":true,"taxable":true,"featured_image":{"id":14627851396,"product_id":362122529,"position":23,"created_at":"2016-08-03T12:06:10+12:00","updated_at":"2017-07-04T09:11:24+12:00","width":2000,"height":500,"src":"https:\/\/cdn.shopify.com\/s\/files\/1\/0120\/5852\/products\/MBW.jpg?v=1499116284","variant_ids":[4124397956]},"available":true,"name":"476 Ready to Wrap Kit - Mocha \/ Black \/ Western","public_title":"Mocha \/ Black \/ Western","options":["Mocha","Black","Western"],"price":59500,"weight":5000,"compare_at_price":null,"inventory_quantity":2,"inventory_management":"shopify","inventory_policy":"deny","barcode":"5597956"},{"id":4124461380,"title":"Mocha \/ Silver \/ Western","option1":"Mocha","option2":"Silver","option3":"Western","sku":"476_Rod KitMSW","requires_shipping":true,"taxable":true,"featured_image":{"id":14627918468,"product_id":362122529,"position":24,"created_at":"2016-08-03T12:08:42+12:00","updated_at":"2017-07-04T09:11:24+12:00","width":2000,"height":500,"src":"https:\/\/cdn.shopify.com\/s\/files\/1\/0120\/5852\/products\/MSW.jpg?v=1499116284","variant_ids":[4124461380]},"available":true,"name":"476 Ready to Wrap Kit - Mocha \/ Silver \/ Western","public_title":"Mocha \/ Silver \/ Western","options":["Mocha","Silver","Western"],"price":59500,"weight":5000,"compare_at_price":null,"inventory_quantity":2,"inventory_management":"shopify","inventory_policy":"deny","barcode":"5661380"}],"images":["\/\/cdn.shopify.com\/s\/files\/1\/0120\/5852\/products\/Rod-kit-katana-white_51a2658b-c280-4862-83f8-1345bc74afcf.jpg?v=1499116320","\/\/cdn.shopify.com\/s\/files\/1\/0120\/5852\/products\/rod-kit-476-ready-to-wrap-fly-rod-kit-2.jpg?v=1499116329","\/\/cdn.shopify.com\/s\/files\/1\/0120\/5852\/products\/rod-kit-476-ready-to-wrap-fly-rod-kit-3.jpg?v=1499116284","\/\/cdn.shopify.com\/s\/files\/1\/0120\/5852\/products\/White-Katana-open--web_6ab5887d-2752-4d75-8c72-5ab9b7720366.jpg?v=1499116366","\/\/cdn.shopify.com\/s\/files\/1\/0120\/5852\/products\/white-Katana-web_bb3d0737-0b28-4909-abdf-3b6141125973.jpg?v=1499116375","\/\/cdn.shopify.com\/s\/files\/1\/0120\/5852\/products\/white-Katana-web1_9a3a8009-f5c4-4b99-ad24-f3030a9eddb2.jpg?v=1499116384","\/\/cdn.shopify.com\/s\/files\/1\/0120\/5852\/products\/rod-kit-476-ready-to-wrap-fly-rod-kit-4.jpg?v=1499116284","\/\/cdn.shopify.com\/s\/files\/1\/0120\/5852\/products\/rod-kit-476-ready-to-wrap-fly-rod-kit-5.jpg?v=1499116284","\/\/cdn.shopify.com\/s\/files\/1\/0120\/5852\/products\/rod-kit-476-ready-to-wrap-fly-rod-kit-6.jpg?v=1499116284","\/\/cdn.shopify.com\/s\/files\/1\/0120\/5852\/products\/rod-kit-476-ready-to-wrap-fly-rod-kit-7.jpg?v=1499116284","\/\/cdn.shopify.com\/s\/files\/1\/0120\/5852\/products\/rod-kit-476-ready-to-wrap-fly-rod-kit-8.jpg?v=1499116284","\/\/cdn.shopify.com\/s\/files\/1\/0120\/5852\/products\/rod-kit-476-ready-to-wrap-fly-rod-kit-9.jpg?v=1499116284","\/\/cdn.shopify.com\/s\/files\/1\/0120\/5852\/products\/rod-kit-476-ready-to-wrap-fly-rod-kit-16.jpg?v=1499116284","\/\/cdn.shopify.com\/s\/files\/1\/0120\/5852\/products\/BWA.jpg?v=1499116284","\/\/cdn.shopify.com\/s\/files\/1\/0120\/5852\/products\/ASW.jpg?v=1499116284","\/\/cdn.shopify.com\/s\/files\/1\/0120\/5852\/products\/SBW.jpg?v=1499116284","\/\/cdn.shopify.com\/s\/files\/1\/0120\/5852\/products\/SSW.jpg?v=1499116284","\/\/cdn.shopify.com\/s\/files\/1\/0120\/5852\/products\/OSW.jpg?v=1499116284","\/\/cdn.shopify.com\/s\/files\/1\/0120\/5852\/products\/BBW.jpg?v=1499116284","\/\/cdn.shopify.com\/s\/files\/1\/0120\/5852\/products\/BSW.jpg?v=1499116284","\/\/cdn.shopify.com\/s\/files\/1\/0120\/5852\/products\/NBW.jpg?v=1499116284","\/\/cdn.shopify.com\/s\/files\/1\/0120\/5852\/products\/NSW.jpg?v=1499116284","\/\/cdn.shopify.com\/s\/files\/1\/0120\/5852\/products\/MBW.jpg?v=1499116284","\/\/cdn.shopify.com\/s\/files\/1\/0120\/5852\/products\/MSW.jpg?v=1499116284","\/\/cdn.shopify.com\/s\/files\/1\/0120\/5852\/products\/OBW.jpg?v=1499116284"],"featured_image":"\/\/cdn.shopify.com\/s\/files\/1\/0120\/5852\/products\/Rod-kit-katana-white_51a2658b-c280-4862-83f8-1345bc74afcf.jpg?v=1499116320","options":["Blank Colour","Reel Seat","Grip Type"],"content":"\u003ch2\u003eEpic 476 Ready to Wrap Fly Rod Kit \u003c\/h2\u003e\n\u003cp\u003e\u003cstrong\u003e\u003cspan style=\"color: #666666;\"\u003eThe very best componentry available, all designed to fit together \u003c\/span\u003eseamlessly. \u003cspan style=\"color: #666666;\"\u003eNo Reaming, No Drilling, No Sanding - \u003cspan style=\"color: #000000;\"\u003eall Epic.\u003c\/span\u003e\u003c\/span\u003e\u003c\/strong\u003e\u003c\/p\u003e\n\u003cp\u003eLooking for a shorter blank to fish in tight confined creeks but still want the backbone and pulling power of a much larger rod? - the 476 is the deal.\u003c\/p\u003e\n\u003cp\u003eBuilding a great custom fly rod is no mean feat, selecting the correct matching components can be an intimidating exercise alone. Then there's those wraps, the cork and glue...\u003c\/p\u003e\n\u003cp\u003eOur Epic Ready to Wrap Rod Kit \u003cstrong\u003emakes life easy\u003c\/strong\u003e - we've done much of the hard work for you. The kit contains all the components, glues, rod finish and instructions you'll need to build your own unique custom Epic fly rod.\u003c\/p\u003e\n\u003cp\u003eThe components in our Epic Ready to Wrap Rod Kit have all been \u003cb\u003especifically\u003c\/b\u003e designed to work together. Our premium grade cork grip features a tapered bore to fit your chosen blank. Each cork grip is ported to receive our Epic reel seat perfectly.\u003c\/p\u003e\n\u003cp\u003e*Kit contents may vary according to options and model chosen\u003c\/p\u003e\n\u003cp\u003e\u003cstrong\u003eEach Kit contains:\u003c\/strong\u003e\u003c\/p\u003e\n\u003cul style=\"line-height: 1.5;\"\u003e\n\u003cli\u003eEpic 476 Blank\u003c\/li\u003e\n\u003cli\u003eEpic Katana hand ferruled translucent fibreglass fly rod tube \u003c\/li\u003e\n\u003cli\u003ePremium hand sewn rod sock\u003c\/li\u003e\n\u003cli\u003eYour choice of finest quality Portuguese cork grip *configurable\u003c\/li\u003e\n\u003cli\u003eEpic reel seat in either black or Titanium finish.\u003c\/li\u003e\n\u003cli\u003eGuide set (Snake brand Universal guides USA)\u003c\/li\u003e\n\u003cli\u003eGlue kit (preloaded syringes, grip \u0026amp; tip epoxy, brushes, mixing cups \u0026amp; full instructions)\u003c\/li\u003e\n\u003cli\u003eChina-graph marking pencil\u003c\/li\u003e\n\u003cli\u003eRod stands\u003c\/li\u003e\n\u003cli\u003eComprehensive 42 page build book with step by step instructions\u003c\/li\u003e\n\u003cli\u003eStickers \/ Decals\u003c\/li\u003e\n\u003cli\u003e\n\u003cstrong\u003e*Japanese Silk threads\u003c\/strong\u003e. Each kit includes natural 212 silk (we include instructions on how to use this to make perfectly clear ghost wraps) and black thread for trims. These default threads can be substiuted for other stock colors on request. \u003ca href=\"http:\/\/swiftflyfishing.com\/collections\/rod-building-components\/products\/silk-wrapping-thread\" title=\"Stock thread colours\"\u003eView Stock Thread Colours\u003c\/a\u003e\n\u003c\/li\u003e\n\u003c\/ul\u003e\n\u003cstrong style=\"line-height: 1.5;\"\u003e\u003cstrong style=\"line-height: 1.5;\"\u003eRecommended line weight:\u003c\/strong\u003e\u003cspan style=\"line-height: 1.5;\"\u003e AFTMA #4 \u003c\/span\u003e\u003c\/strong\u003e\u003cbr\u003e\n\u003cp\u003e\u003cstrong\u003eLength:\u003c\/strong\u003e 7'6\"\u003cbr\u003e\u003cstrong\u003ePieces:\u003c\/strong\u003e 4\u003c\/p\u003e\n\u003ch6\u003eSpecifications\u003c\/h6\u003e\n\u003cp\u003e\u003cspan style=\"color: #000000;\"\u003e\u003cstrong\u003eRecommended line weight\u003c\/strong\u003e:\u003c\/span\u003e\u003cspan style=\"line-height: 1.5;\"\u003e AFTMA #4 \u003cbr\u003e\u003c\/span\u003e\u003cspan style=\"color: #000000;\"\u003e\u003cstrong\u003eLength:\u003c\/strong\u003e\u003c\/span\u003e\u003cspan style=\"line-height: 1.5;\"\u003e 7'6\"\u003cbr\u003e\u003c\/span\u003e\u003cspan style=\"color: #000000;\"\u003e\u003cstrong\u003ePieces:\u003c\/strong\u003e\u003c\/span\u003e\u003cspan style=\"line-height: 1.5;\"\u003e 4  \u003cbr\u003e\u003c\/span\u003e\u003cspan style=\"color: #000000;\"\u003e\u003cstrong\u003eTotal length:\u003c\/strong\u003e\u003c\/span\u003e\u003cspan style=\"line-height: 1.5;\"\u003e 2,265mm\u003cbr\u003e\u003c\/span\u003e\u003cspan style=\"color: #000000;\"\u003e\u003cstrong\u003eERN:\u003c\/strong\u003e\u003c\/span\u003e\u003cspan style=\"line-height: 1.5;\"\u003e (Unwrapped): 3.96\u003cbr\u003e\u003c\/span\u003e\u003cspan style=\"color: #000000;\"\u003e\u003cstrong\u003eELN:\u003c\/strong\u003e\u003c\/span\u003e\u003cspan style=\"line-height: 1.5;\"\u003e 4\u003cbr\u003e\u003c\/span\u003e\u003cspan style=\"color: #000000;\"\u003e\u003cstrong\u003eOptimal Grain Window:\u003c\/strong\u003e\u003c\/span\u003e\u003cspan style=\"line-height: 1.5;\"\u003e 120 - 135 Grains\u003cbr\u003e\u003c\/span\u003e\u003cspan style=\"color: #000000;\"\u003e\u003cstrong\u003eEffective Line Range:\u003c\/strong\u003e\u003c\/span\u003e\u003cspan style=\"line-height: 1.5;\"\u003e AFTMA 4 \/ 5\u003cbr\u003e\u003c\/span\u003e\u003cspan style=\"color: #000000;\"\u003e\u003cstrong\u003eAction:\u003c\/strong\u003e \u003c\/span\u003e\u003cspan style=\"line-height: 1.5;\"\u003eProgressive \/ Mid Flex \/ Medium  \u003cbr\u003e\u003c\/span\u003e\u003cspan style=\"color: #000000;\"\u003e\u003cstrong\u003eTaper:\u003c\/strong\u003e\u003c\/span\u003e\u003cspan style=\"line-height: 1.5;\"\u003e Fast\u003cbr\u003e\u003c\/span\u003e\u003cspan style=\"color: #000000;\"\u003e\u003cstrong\u003eBlank Weight:\u003c\/strong\u003e\u003c\/span\u003e\u003cspan style=\"line-height: 1.5;\"\u003e 47g\u003c\/span\u003e\u003c\/p\u003e\n\u003chr style=\"line-height: 1.5;\"\u003e\n\u003ch5\u003e\n\u003cimg src=\"\/\/cdn.shopify.com\/s\/files\/1\/0120\/5852\/files\/Epic-Fiberglass-Fly-Rod-Specifications_4_large.png?4328\" alt=\"Epic Fiberglass Fly Rod Blank\"\u003e\u003cbr\u003e\u003cimg src=\"\/\/cdn.shopify.com\/s\/files\/1\/0120\/5852\/files\/476-Strenght_2_large.png?4361\" alt=\"Epic Fiberglass fly rods\"\u003e\u003cbr\u003e\u003cimg src=\"\/\/cdn.shopify.com\/s\/files\/1\/0120\/5852\/files\/S-Glass_3_large.png?4330\" alt=\"Epic Fiberglass Fly Rod Blank\"\u003e\n\u003c\/h5\u003e\n\u003cp\u003e\u003cspan face=\"Calibri\"\u003e \u003c\/span\u003e\u003c\/p\u003e\n\u003cp\u003e\u003cstrong\u003e \u003c\/strong\u003e\u003c\/p\u003e\n\u003cul class=\"tabs-content\"\u003e\u003c\/ul\u003e"}
476 Ready to Wrap Kit
476 Ready to Wrap Kit
Epic 476 Ready to Wrap Fly Rod Kit 
The very best componentry available, all designed to fit together seamlessly. No Reaming, No Drilling, No Sanding - all Epic.
Looking for a shorter blank to fish in tight confined creeks but still want the backbone and pulling power of a much larger rod? - the 476 is the deal.
Building a great custom fly rod is no mean feat, selecting the correct matching components can be an intimidating exercise alone. Then there's those wraps, the cork and glue...
Our Epic Ready to Wrap Rod Kit makes life easy - we've done much of the hard work for you. The kit contains all the components, glues, rod finish and instructions you'll need to build your own unique custom Epic fly rod.
The components in our Epic Ready to Wrap Rod Kit have all been specifically designed to work together. Our premium grade cork grip features a tapered bore to fit your chosen blank. Each cork grip is ported to receive our Epic reel seat perfectly.
*Kit contents may vary according to options and model chosen
Each Kit contains:
Epic 476 Blank
Epic Katana hand ferruled translucent fibreglass fly rod tube 
Premium hand sewn rod sock
Your choice of finest quality Portuguese cork grip *configurable
Epic reel seat in either black or Titanium finish.
Guide set (Snake brand Universal guides USA)
Glue kit (preloaded syringes, grip & tip epoxy, brushes, mixing cups & full instructions)
China-graph marking pencil
Rod stands
Comprehensive 42 page build book with step by step instructions
Stickers / Decals
*Japanese Silk threads. Each kit includes natural 212 silk (we include instructions on how to use this to make perfectly clear ghost wraps) and black thread for trims. These default threads can be substiuted for other stock colors on request. View Stock Thread Colours
Recommended line weight:
AFTMA #4 
Length: 7'6"
Pieces: 4
Recommended line weight: AFTMA #4 
Length: 7'6"
Pieces: 4  
Total length: 2,265mm
ERN: (Unwrapped): 3.96
ELN: 4
Optimal Grain Window: 120 - 135 Grains
Effective Line Range: AFTMA 4 / 5
Action: Progressive / Mid Flex / Medium  
Taper: Fast
Blank Weight: 47g
---



Customer Reviews
Reviews (11)
Questions (0)
08/17/2017
Benjamim V.
Macao
My first glass rod.
I have ordered an Epic 476 kit earlier this year as a birthday gift for myself. Turned out that the wait has been longer than told as the Nude blank was out of stock and the restock was delayed. Anyway it is worth the long wait! My first impression is that the blank is really light, responsive and FAST! If I close my eyes I wouldn't know whether I am holding a glass or graphite blank. The stated weight of the 476 blank is 47g and I measured that it is 42g with my digital scale. Good Good. I just finished the build and can't wait to fish it. It is my first proper build and the Epic kit is such a great idea to let you learn to build a fly rod. The components are great, the instruction is clear and easy to follow. I like the idea of using the cardboard box as wrapping stand as well. I can see myself buying less factory rods and building more rods myself in the near future.
04/25/2017
Charles J.
United States
My first fly rod build
First, I receiceved the rod kit from New Zealand to Michigan in 2 days. So my experience started out great! I found the instructions intuitive and the entire process was far less intimidating than I originally expected. The finished product turned out great! The 476 is a super fun rod to cast. I find myself taking it out in the yard almost daily just to throw a few loops and get excited for when I actually get it on the water. This is my first fiberglass rod and won't be my last!
Just brilliant
Bought ready to wrap kit. Kit was great easy to understand instructions made the task easy. I had such a good time building this rod. The built rod i love it. Low overall weight makes it a delight to use on long days on water. I found this rod extremly accurate to cast. I love this ROD.
11/28/2016
Francois Banide
Looking foward test it on the river...
I'm almost finishing my 476 Amber and I have to say this is a real pleasure to deal with this fascinating translucent blank. The quality of component of the Wrap kit are excellent: snake guides, cork grip, wrap silk, everything is perfect ! I customized the grip and and used one of my reel seat. I also try the famous Epic clear wrap with the dark inlay inside, it's promising but epoxy application will be the moment of truth ; let's cross fingers ! This is my 6th rot that I built and I never have had as much pleasure in the rod building experience, Thank you Swift Team !
A
08/26/2016
Arne
Definitetly Fast with Feel
Just went out to test my Epic 476 Mocha after finishing the build. And I have to say it's really a great rod and product. The rod delivers accurate and feels really crisp. To be honest I just fell in love with how it cast's and feels The building kitt speaks for it's self. It has all the component's necassary and a detailed guide for building and an overall good quility of the components.
- THE EPIC PROMISE -

We guarantee everything we make.
If one of our products fails to meet your expectations either at the time you receive it, or over the next 30 days, contact us and we'll arrange a total refund and return at our cost, anywhere in the world.

The Epic Lifetime Warranty.
Every new Epic fly rod or blank that we produce is covered by our lifetime, original owner warranty. This warranty covers failure due to defects in material or workmanship of our product. Any Epic fly rod built by the Swift Fly Fishing company that fails due to misuse, negligence or normal wear-and-tear will be repaired or replaced at a nominal cost plus shipping at our discretion.
Full details of our warrenty, guarantee, replacment and returns policy can be found here
"Since the first order i felt that Swift is a company that really cares about the customers. I have just finished building the 888 and it was really fun. Everything was just as expected. Top notch. Now i'm waiting for my other kit to arrive! "

"As this was my first attempt at building a fly rod I was worried that I would end up with nothing but a sticky pile of carbon fibre and tangled thread. However, by following the step by step instructions in the booklet I was feeling like a pro in no time. Everything in the kit is organised to make it as simple as possible and the instructions are super easy to follow with photos of each step. My rod turned out great (in my eyes anyway) and I would highly recommend the 'ready to wrap kits' to anyone. I look forward to the next one." - Gareth T


"This is my fifth Epic build. As before all the components are excellent, the finished rod is nicely balanced and rod casts a five weight line beautifully.
These rods fish well and are amazingly tough." - Daniel L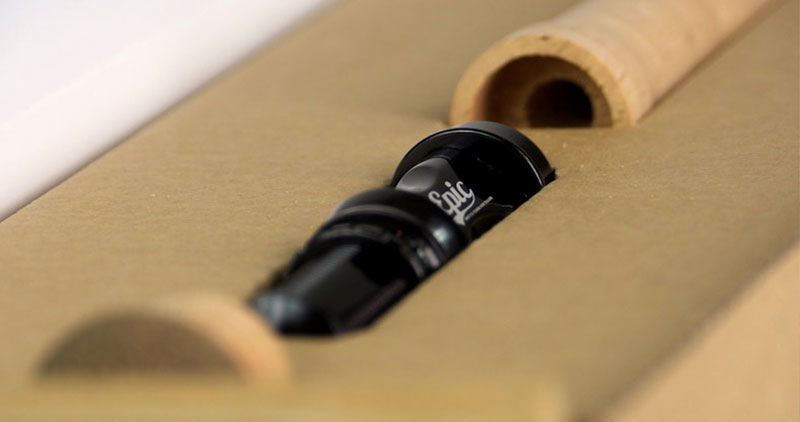 Designed to fit together seamlessly.
Building a great custom fly rod is no mean feat, selecting the correct matching components can be an intimidating exercise alone. First time rod builder or seasoned professional, our Epic Ready to Wrap Rod Kits make building a quality fly rod simple. Each kit contains all the components, glues, rod finish and instructions you'll need to build your own unique custom fly rod.
The components in our Epic Ready to Wrap Rod Kit have all been specifically designed to work together.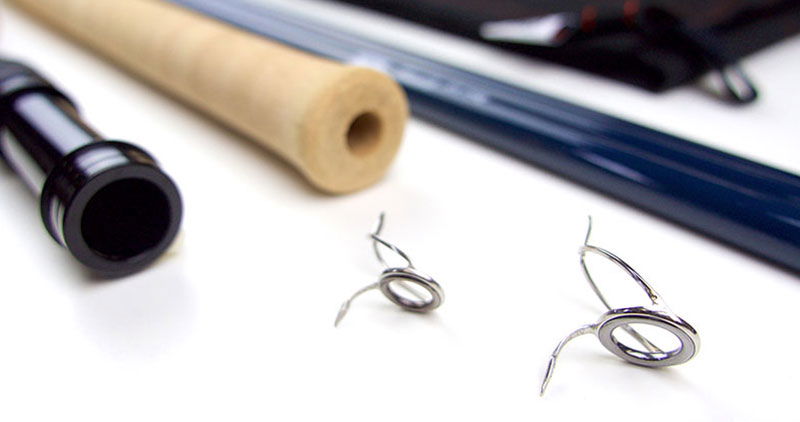 Each Ready to Wrap fly rod boasts the finest components possible.
Our comprehensive 40 page step by step fly rod build book
Glue kit (preloaded syringes, epoxy - brushes - mixing cups)
Fold out rod building stands - Kit box doubles as your workstation
Highest quality stripping guides matched to each kit
Flor grade quality Portuguese cork grip in your choice of style
Japanese silk threads for wrapping and trims
Genuine Snake Brand guides either e-coated or black nickel
Bar stock Alloy reel seats that will last a lifetime
Our hand ferruled "Katana" rod tube
The most sophisticated fly rod blanks made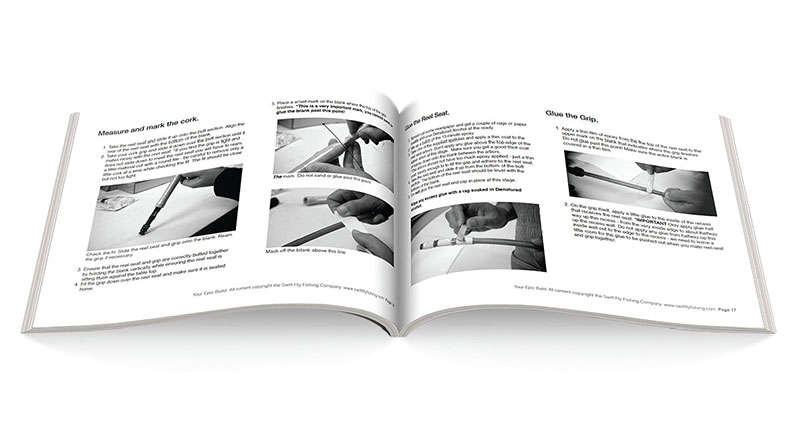 The secret to building a great fly rod.


Our comprehensive step by step fly rod building book. 42 pages of clear, simple, straightforward step by step instructions on how to put together a custom Epic fly rod, complete with tips from the pros'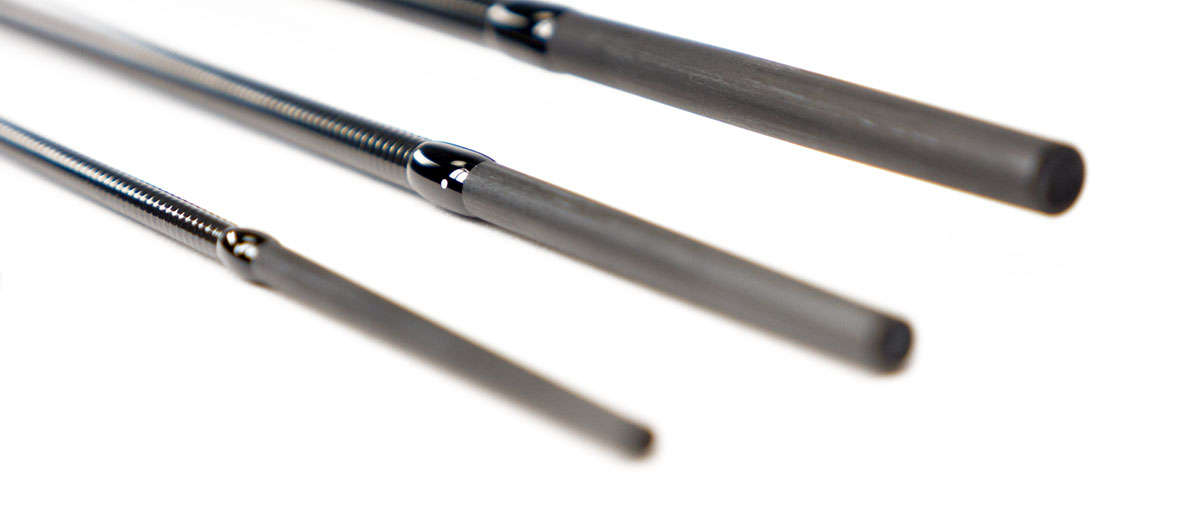 When choosing one of our Ready to Wrap Rod Kits you can be confident you'll be receiving one of the world's very finest fly rod blanks. Preferred by professional custom rod builders the world over.